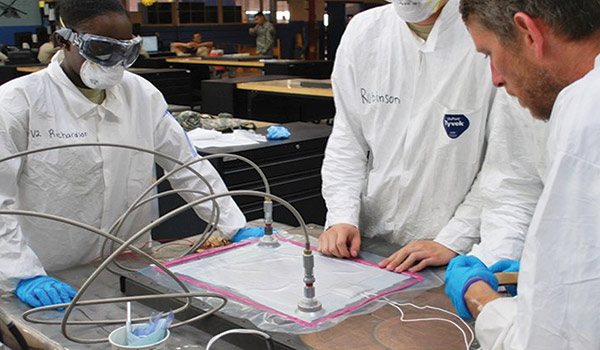 128th Aviation Brigade / By CPT Tad Lefler and Mr. Glenn Johnson: The use of composites began early in aviation history when the Wright Brothers used muslin, a sturdy woven cotton cloth, and sealant to fabricate flight control surfaces. Composites are still used in aviation today, though they are a bit more advanced.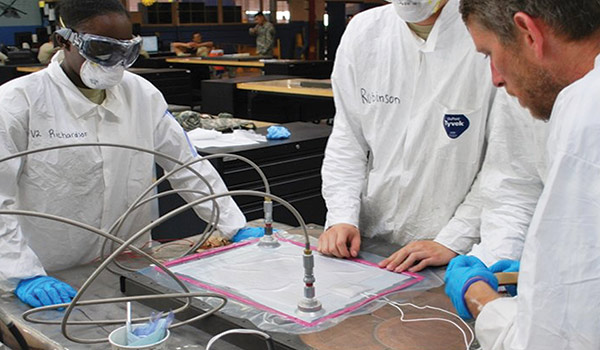 15G students applying heat and vacuum to an advanced composite repair. / 128th AVN BDE COURTESY PHOTOS
The term Advanced Composites is considered by the industry as fabric with fibers of higher strength than that of fiberglass, such as carbon and Kevlar®. These fibers, combined with high strength epoxies, make for a much lighter and stronger structure allowing aircraft manufacturers to design composite components that serve as primary structures capable of carrying more significant loads. Advanced composites are now being used in Army aircraft structures including the UH-60M horizontal stabilator, the AH-64D/E horizontal stabilator, the AH-64E composite tailboom and vertical stabilizer, and the CH-47F/MH-47G right-hand crown skin.
Composites Training – From Past to Present
In FY11, the Army began fielding the UH-60M helicopters which had many unique features such as the advanced composite horizontal stabilator. This significant change, along with the release of TM 1-1500-204-23-11 (Advanced Composite Material General Maintenance and Practices in 2013) led the 128th Aviation Brigade to recognize the need to adapt composite training to meet the challenges of repairing advanced composite structures.
Course and facility improvements were made and in June 2013, beginning with 15G10 Class 09-13, the Composite Repair Training in the 128th Avn. Bde. changed to Advanced Composites Repair Training. Prior to this, 15G Structural Repair students were trained in basic composite techniques on the repair of secondary aircraft components, cowlings, doors, floor panels, etc., which provide no or minimal load. The training involved cutting plies made of cloth and fiberglass, placing adhesive on the plies, and securing the repair with weights. After 24 hours, the patch would be cured and ready for use.
Since advanced composite structures are now designed with the fibers of the cloth precisely oriented to achieve the greatest amount of strength in the load direction, the repair ply fibers must now be aligned with the existing plies. Therefore, the 15G repairer is now taught to make his or her own repair material by adding epoxy to carbon cloth in exacting proportions to ensure the correct properties of the repair plies have been achieved. They are also taught how to use hot bonding equipment along with proper vacuum bagging procedures to perform all advanced composite repairs.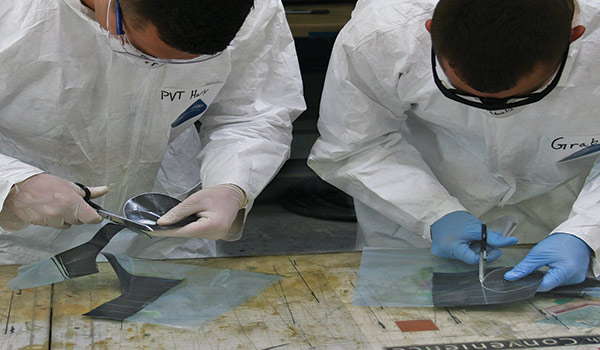 15G students cutting repair plies from resin-impregnated carbon fiber cloth for an advanced composite repair.
Currently, all 15G10 Initial Entry Students and 15G30 Advanced Leader Course (ALC) students are trained on advanced composite repairs. Training begins with lessons on the safe handling of materials, the use of personal protective equipment, and the use of several new tools such as a warp clock to describe the direction of fibers and the hot bonder. Students are then taught how to calculate the amount of adhesive required and the types of materials used for repairs.
Through the use of practical exercises, students are taught how to repair a UH-60M stabilator. Lessons include far side laminate repair with no access, core replacement, near side laminate repair, and electromagnetic interference repair. These techniques are taught using plain weave carbon fiber. Finally, training is provided on the repair of a UH-60 rotor blade with pre-fabricated plug patches, trailing edge patches and skin laminate.
Today, advanced composites is not only taught to the 15G Structural Repairers but is also introduced to MOSs 15R, 15T, and 15U on the changes to composite repairs the 15G will be doing on their respective aircraft. Over 300 students are receiving this new training annually. The 15K40 Senior Leader Course (Aircraft Component Repair Supervisor) and 151A Warrant Officer Basic Course (Aviation Maintenance Technician) also receive theory of operation and a demonstration of the hot bonder in order to gain an understanding on what type of advanced composites repairs can be performed by the 15G.
The Future
In FY17, the block of instruction on advanced composites will increase from 73 hours to 137 hours in order to provide the Army with a highly proficient advanced composite repairer. The 128th Avn. Bde. is excited about these improvements and believe we are on the right path to meet all needs for advanced composite repairs on any aircraft and unmanned aircraft system in Army Aviation.
CPT Tad Lefler is the commander and Mr. Glenn Johnson is a training specialist with Company C, 2nd Battalion, 210 Aviation Regiment, 128th Aviation Brigade, Joint Base Langley-Eustis, VA.