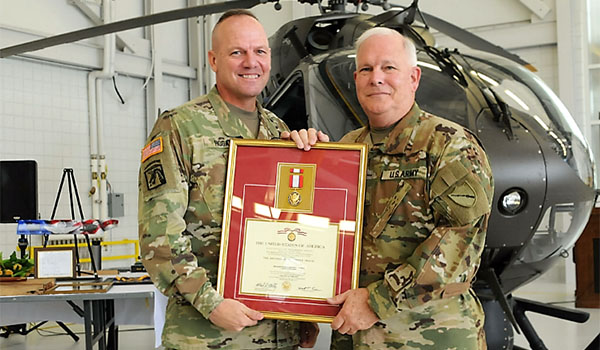 There's hardly an empty spot on the walls of Brig. Gen. Benjamin Adams III's office. A museum-quality collection with decades of memories hanging as testimony to a storied career.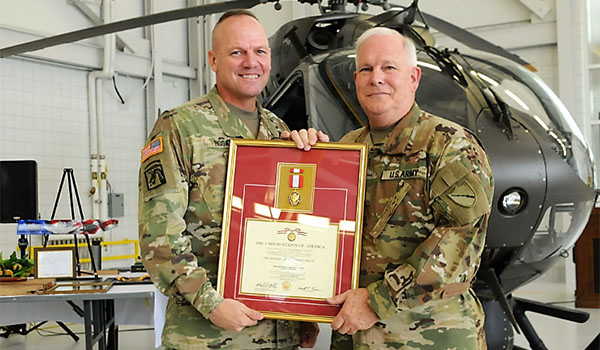 Brig. Gen. Benjamin Adams III retires from the Kentucky Army National Guard after 40 years of service to the country. The retirement ceremony was held Saturday, Sept. 8, in Frankfort, Ky. (U.S. Army National Guard photo by Staff Sgt. Ben Crane)
<"I told the adjutant general, if I could do this until the day I die, I would do it. That's how much I enjoy it," he said.
Adams has given the majority of his life to his country, forty years. He was commissioned right out of college in 1978, completed flight school in 1980 and spent 15 years on active duty. Changing careers, he walked away from the military for a while doing contract work, but missed the Army and missed flying so he looked into other opportunities. That search landed him with the Kentucky National Guard.
"At the time, Kentucky Adjutant General John Russell Groves was looking for someone with an aviation background that wasn't already in the Guard, some fresh blood," said Adams. "I didn't think I had any chance because I didn't have any affiliation with the Guard, but I was hired to become the flight facility commander."
So from 1999 until September 2018, Adams was a full-time technician in the Kentucky National Guard. "I didn't really understand what the Guard was until I got into the Guard. I didn't really understand what a technician was until I became one. I just knew I wanted to fly again, wanted to finish my career in the military."
Adams has been deployed numerous times throughout his career commanding at the company, battalion and brigade levels and most recently worked as the chief of joint staff, but now he is passing the baton and becoming a traditional Guardsmen as the assistant adjutant general to finish out his time in uniform.
"It's a remarkable testament to his dedication that he served 40 years. Ben Adams loves what he does, he loves the Army," stated Maj. Gen. Stephen Hogan, adjutant general for the Kentucky National Guard. "From 2nd Lieutenant to a one star general he has come in contact with thousands of people. He has authored, modified and seen to perfection many policies. His influence will be known for years and years to come because of his dedication to service."
Click Here for Full Article