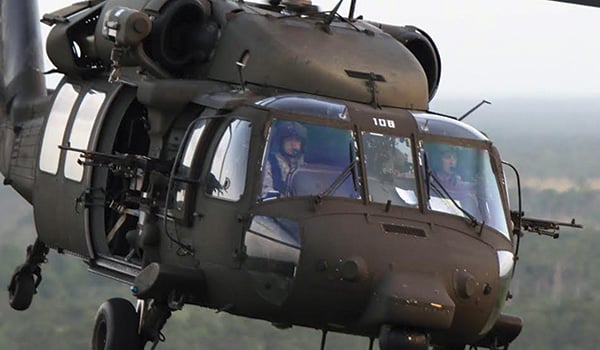 From the Field / By CW5 Blaine A. Tirendi: The Aviation Master Gunner Course was created as a program of instruction for the attack and aeroscout community to "train senior instructor pilots (IP) to perform duties as the principle advisor to the commander and staff for tactical targeteering and weaponeering." It also trains them to plan, schedule, coordinate and execute the unit gunnery training program. This course has been successful in equipping the instructor pilot in AH-64 and OH-58 aircraft with the knowledge set necessary to manage the gunnery program. However, the paradigm has not evolved in terms of current and future, post-Army Aviation Restructure Initiative (ARI) demands among all three Components' infrastructural and operational needs.
A UH-60 Black Hawk from A/5-159th GSAB, on the gunnery range at Avon Park Air Force Range, FL during annual door gunnery training./ U.S. ARMY PHOTO BY SSG DAVID MERCADO
In the past there were no prescriptive requirements for rated crewmembers (RCM) in the assault/general support (utility) and cargo communities to attend the Master Gunner Course. With the relatively recent change in that requirement found in TC 3-04.45 and the Army Resource Management System (ARMS) checklist, it has become incumbent upon the general support aviation battalions (GSAB) and assault helicopter battalions (AHB) to send pilots to the course, which is held twice each year (April and October) at the U.S. Army Aviation Center of Excellence (USAACE). In its current format, the course is attack centric, does not focus on door gunnery, and only allows officers to attend.
Meeting the Need
In the UH-60 and CH-47 aircraft, it is the nonrated crewmember (NRCM) or Flight Instructor/Standardization Instructor (FI/SI) who is the primary maintainer, trainer, expert, and operator of the weapon systems. It is the FI/SI who plans, schedules, coordinates, and executes the unit door gunnery training program. There is a void in institutional training to equip the FI/SI to manage this vitally important program. There has been a longstanding need and desire in the field for a formal Additional Skill Identifier (ASI) producing course to fill this void. Throughout the utility and cargo, or lift communities, the FI/SI learns this skill and knowledge set by way of a brief introduction during the NRCM Flight Instructor/Standardization Instructor Course (NRCM FI/SI Course) and through on-the-job-training (OJT) via reading the TC 3-04.45.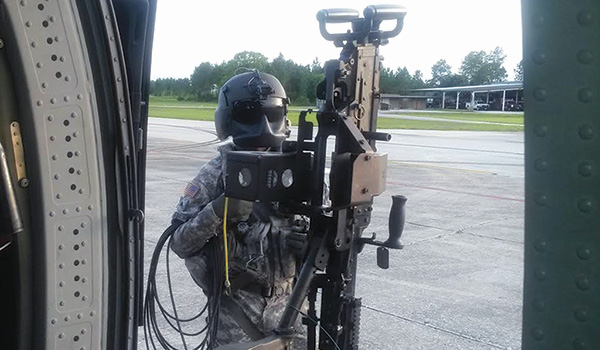 SGT Gordat Misir, Co. A, 5th Bn. (Gen. Spt. Avn.), 159th Aviation Regiment, prepares for a training flight at Avon park Air Force Range, FL, during annual door gunnery training.
In the name of standardization and safety, we have always placed addressing institutional training voids such as these, as paramount. A perfect example is the creation of the NRCM FI/SI Course. This course was created to fill a much needed requirement for school-trained enlisted flight instructors within the lift community. Traditionally, the enlisted flight instructor was self-taught and this was deemed to be lacking and ineffective. Now the FI/SI is school-trained and manages his/her own part of the Aircrew Training Program (ATP) IAW AR 95-1, TC 3-04.11 and the appropriate aircrew training manual (ATM). Duties of the FI/SI include readiness level progression, Annual Proficiency and Readiness Tests (APART), no-notice evaluations, aircraft qualifications, and management of the individual aircrew training flight records. SIs are MTOE-authorized in the headquarters and headquarters company (HHC) of each GSAB, AHB, and aviation brigade.
Dissimilar Paradigms
When we apply Aircrew Coordination Training, the lift community operates in a dissimilar paradigm than the attack community. In utility and cargo aircraft there is a total-crew concept between the rated and non-rated crewmembers where duties are divided by crew station. The IP up front, has no more stake in the door gunnery program, than does the FI/SI in the back in planning an IFR flight. The door gunnery program is, by definition, for the Soldier who sits in the door and operates that weapon system. It is one that can and should be solely managed by an experienced and knowledgeable noncommissioned officer. The UH-60 and CH-47 IPs instead, are focused on training aviators in pre-mission planning, preflight, flight maneuvers, approach/landing, emergency procedures, tactical operations, post-flight operations, crew coordination, and safety. Sending a Black Hawk or Chinook instructor pilot to the Master Gunner Course simply to fulfill a prescriptive requirement serves no tactical or operational purpose.
It does, however, make total sense for an AH-64 pilot. After all, an Apache pilot starts building his or her on-board weapons expertise during career infancy and builds on it continually throughout. In the lift world, it is the NRCM's distinct job, not the aviator's, to operate the weapon in the gunner's window or ramp. The FI/SI is the expert who should be institutionally trained as the Master Door Gunner and therefore, given the commensurate and prescriptive ASI. It only makes sense to move toward a new paradigm and train the utility and cargo FI/SIs at the gunnery schoolhouse in lieu of them learning via OJT.
In order to train as we fight, we need to attack this shortfall in our enterprise with energy and focus. There are currently two iterations of the Master Gunner course at USAACE. They are held in the spring and fall. Even in the face of a no-growth posture, it seems that there can still be room to grow the Master Gunner Course at minimal cost. The cost is dwarfed by the benefit of safety, standardization, and combat readiness.
Making the Change
We should start by creating a specific Program of Instruction (POI) for door gunnery and adding two more iterations, off-cycle from the current attack-centric POI. This would bring the total number of iterations per year to four; two for ARB Master Gunners and two for GSAB/AHB Master Door Gunners. These new iterations could be conducted in the summer and winter. The template is already in place with the current and proven POI. The new POI would merely be an adjustment of the current template with a different curriculum focus (door gunnery), and enlisted students. A commensurate change in the prerequisites would be necessary. First, enlisted FI/SIs would be the target student to attend the GSAB/AHB Master Door Gunner Course and would receive an ASI upon completion. Second, a minimum experience level would be applied. For example, a candidate should be an FI/SI with a minimum of five years of flight experience, one year as an FI/SI, 500 hours total time, and have participated in at least two door gunnery iterations.
In the meantime, we can still educate our instructor pilots by streamlining the UH-60 and CH-47 Instructor Pilot Courses (IPC). This can be accomplished by removing material already covered in Aircraft Qualification Courses (AQC) such as basic systems knowledge, and adding new Terminal Learning Objectives (TLO) for Door Gunnery. This will equip the new IP with a basic understanding of the door gunnery program while the FI/SI manages it.
The true stakeholders of the Door Gunnery program reside in the GSABs and AHBs. It is in our best interest to move forward with this paradigm shift and officially put our trust in the best NCOs the Army has to offer. Let them get the training and recognition that they deserve, for a program that they have always managed anyway. We would be remiss to not address this crucial void in training our aircrews to be standardized, safe, and ultimately, combat ready.
CW5 Blaine A. Tirendi is the aviation standardization officer at Headquarters, United States Army Reserve Command (USARC), located at Fort Bragg, NC.