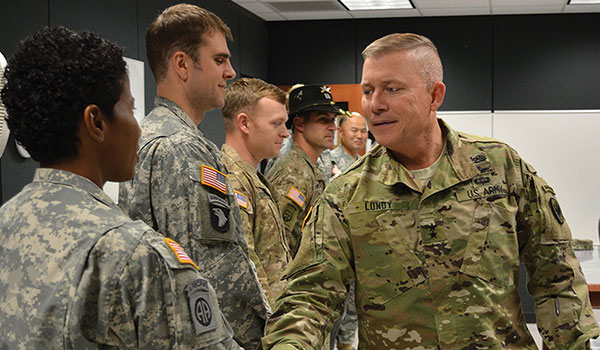 Aviation Branch Chief / By MG Michael D. Lundy: This is my last note to the field as the 14th Aviation Branch Chief. It was truly my honor and privilege to be given the opportunity to serve with, for and beside you; the phenomenal Soldiers, DACs and leaders of this branch.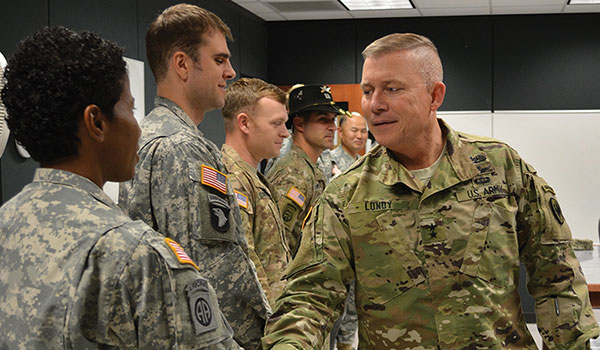 MG Michael D. Lundy, U.S. Army Aviation Center of Excellence and Fort Rucker commanding general, congratulates graduates of the new Air Cavalry Leaders Course at the Seneff building, Ft. Rucker, AL, Nov. 20, 2015. / U.S. ARMY PHOTO BY KELLY P. MORRIS, USAACE PAO
Without fail, you demonstrate daily that you are our true combat power and you never cease to amaze me with your innovation, initiative, discipline and professionalism. Your commitment to our branch and more importantly to the ground forces makes me proud to be part of this great team.
The Total Aviation Force is and will remain in high demand around the globe and at home. As an asymmetric advantage for our Nation, unique in scale and capability, you continue to provide Soldiers and units on the ground with unparalleled lethality, mobility, situational understanding and survivability necessary to win in this increasingly complex world. You provide commanders with multiple options to conduct operations at the time and place of their choosing so they can always maintain the position of advantage. No matter the conditions or the environment, our Army will continue to count on Army Aviation to deliver — day in and day out.
As our branch moves into the future, we must never lose sight of what we are for – enabling Soldiers on the ground to fight and win in the unforgivable environment of close combat. Our training, leader development, combat readiness and focus must always center on that purpose, because our Soldiers on the ground completely trust that we will get it right – every time.
Train hard, train right, and focus on developing our future leaders first. The American People count on our Army to be the Iron Fist of the Nation to prevent conflicts, shape the security environment and win by compelling our enemies. Army Aviation is a critical maneuver force to support our Army in this no-fail mission, and the increasing complexity of the world we live in today demands that we remain ready to execute – tonight.
I'm very proud of all that you have accomplished and it truly was my honor to serve with each of you. As I transfer the controls to MG Gayler, I know the branch is in great hands; but most importantly, I will sleep well at night knowing that each of you remain on watch around the world – ready to win.
Above the Best!
MG Mike Lundy
Editor's Note: As MG Lundy completes his tour as the Aviation Branch chief and commander of the U.S. Army Aviation Center of Excellence and Fort Rucker, AL, we at ARMY AVIATION thank him for his support and wish him and his wife, Paula, all the best in his future assignment.