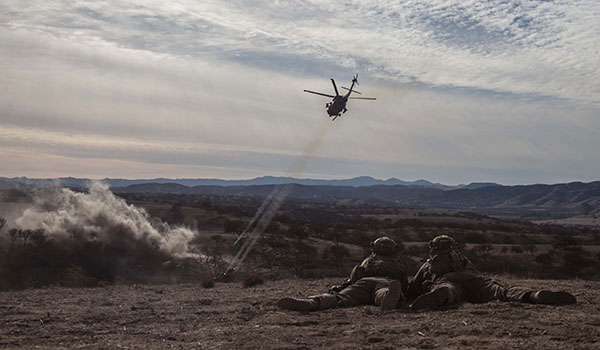 USASOC Command Sergeant Major Update / By CSM Gregory M. Chambers: Standards — the accomplishment of every Army mission, is grounded in the strict adherence to a task standard, and carried out by disciplined and responsible Soldiers and leaders.
Although Army doctrine, Army regulations, unit regulations, programs of instruction, and unit standard operating procedures provide Soldiers and leaders with an understanding of the standard, it requires strong leadership to foster an environment where strict enforcement can be maintained. Regardless of the framework used, whether it's time-on-target plus or minus thirty seconds, the Army Special Operations Promise, or the imperatives contained within ARSOA 2030, maintaining a high level of proficiency requires more than strategy – it requires an organizational culture committed to standards.
In the special operations community we have created a culture of standards by investing in human capital. One of the SOF Truths, "People are more important than Hardware", is our most important imperative, and it is constant in everything we do at the United States Army Special Operations Aviation Command (USASOAC). Leaders within the USASOAC understand that investing in Soldiers leads to mission success. As leaders we owe our Soldiers the best leadership, and within this command we do that through structured MOS progression, career professional development, and investment in tough realistic training programs.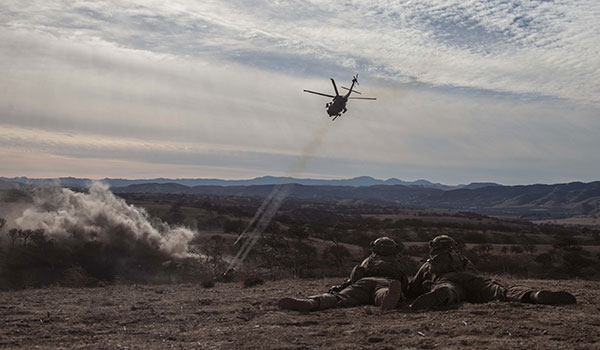 Soldiers conducting close air support, call for fires delivered by an MH-60 Defensive Armed Penetrator (DAP).
The Making of a USASOAC Soldier
One of the things that make USASOAC unique is that every Soldier must reaffirm his or her ability to achieve the Army standard prior to assimilating into the organization. Enlisted members of USASOAC are trained and tested at Enlisted Combat Skills, formally known as "Green Platoon Combat Skills" as part of their accession into the command. There are no "Special" standards during Combat Skills, simply a strict adherence to the Army standard. As we say in USASOAC, we aren't trying to exceed the Army standard, but rather we are trying to be the best at the Army standard. By the end of the Combat Skills process the enlisted Soldier has been introduced to the dedicated culture of achieving strict standards and it is in this context that USASOAC Soldiers are rapidly assimilated into their line Companies, and instantly contribute to a team that is able to operate around the world in any environment.
Beyond Combat Skills
Because USASOAC has dedicated training elements within the command, it is able to maintain 28 in-house, dedicated Army approved programs of instruction (POI) that produce USASOAC basic mission qualified pilots, enlisted non-rated crewmembers, enlisted flight instructors, enlisted flight medics and enlisted aircraft maintainers. These structured programs provide the continued reinforcement of standards to ensure the Soldier is successful during their assignment in the command as it concerns their individual specialty. Additionally, the command invests in numerous low density programs to professionally grow technically and tactically proficient Soldiers within their career fields. Our young Quartermaster, Signal, Human Resource, Military Intelligence, Ordnance and Medical Soldiers are subject to structured MOS progression programs that develop them within their specialty, but also develop them as a valuable team member to the USASOAC mission.
Professional development as a Soldier is critical to every Soldier's career. The Professional Ethic requires that Soldiers are committed (Commitment), that they are competent at their job (Competence) and that they possess values, ethics and morals (Character). Although these three words are not recited in every training POI or SOP within the command, the core of any event fosters an environment of commitment, competence and character. Every good ARSOA Soldier must first and foremost be a Professional Soldier. Early in an enlisted Soldier's assignment to the command, junior Soldiers are given a tremendous amount of responsibility to grow professionally as an individual, as a competent team member, and as subject matter expert within their field. Section sergeants, platoon sergeants, first sergeants and command sergeants major take a vested interest through numerous professional development programs to foster a life-long learning environment. Development model and leaders ensure the time and resources are structured to meet this important requirement. Professional military education, self-structured development, broadening opportunities, NCOIC duties of small teams and leadership assignments within the command provide the basis for the solid progression to a Professional Soldier. Additionally, the command runs a comprehensive Talent Management program in conjunction with USASOC for all its sergeants first class, master sergeants, sergeants major and command sergeants major. This process ensures that we are utilizing the "Talent" correctly across the command and the Army.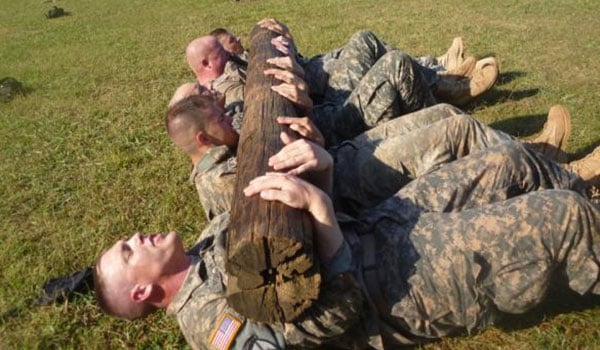 Soldiers in Enlisted Green Platoon conduct log physical training.
Mission Focused Training Model
Training is the cornerstone of any Army unit, in the USASOAC community, constant challenging and realistic training is the capstone to setting and maintaining high standards. There are two unique characteristics that USASOAC has when it comes to training. Its habitual relationship with the ground force (our customers) and how we regionally align the operational units. Regional alignment with our theater special operation commands (TSOCs) allows our units to capitalize on valuable JCS and joint combined exchange training (JCET) exercises around the world. These training events not only provide valuable training venues, but they also educate Soldiers about the TSOC AOR and the countries they work in.
The habitual relationship that USASOAC has with its customer base is invaluable. When a unit has the ability to work with the supported customer throughout its combat development lifecycle, the training and the standards gleaned serve as combat multipliers that make both the customer and the ARSOA capability stronger. Although combat provides an excellent venue for refining the smallest details, the constant engagement during training in numerous environments and mission profiles serves as the placeholder for exacting standards.
Conclusion
Training and Soldier development programs within the USASOAC help support the three main imperatives that we have outlined in our future operating concept, ARSOA 2030. In this document we have challenged ourselves to assess the current force, develop the future force and, generate the future force. Being part of a special culture that breeds success requires a significant investment into our training programs and human capital. This investment produces highly competent, committed Soldiers that can be trusted to carry out tough missions around the world. It's these programs that foster an environment or culture of committed excellence towards mission accomplishment and team work. The "Love of the Job" is at the heart of every ARSOA Soldier. So, whether it's supporting the Global SOF Network, working with coalition partners, partner nations or fellow ARSOA units, investment in Human Capital and enforcing strict military standards is important to the successful accomplishment of the mission.
CSM Gregory M. Chambers is the command sergeant major for the United States Army Special Operations Aviation Command, Fort Bragg, NC.