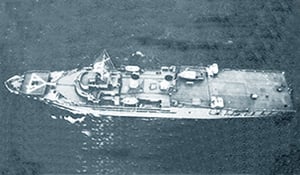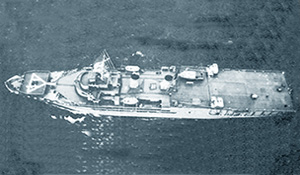 December 19, 1972, the Army's Floating Aircraft Maintenance Facility (FAMF), arrived at the Port of Corpus Christi. Home of the First Transportation Corps Battalion (Aircraft Maintenance Depot) (Seaborne), the Corpus Christi Bay put in six years off the coast of South Vietnam. The First Transportation Corps Battalion saw to the repair and maintenance of Army aircraft as a floating garage; in performing such service, the Battalion earned four Meritorious Unit Commendations.
The ship itself was laid down in Camden, New Jersey by the New York Shipbuilding Company, on June 12, 1939. Beginning a term of service as a Curtiss-class Seaplane Tender, she was launched on July 13, 1940; she was commissioned into the fleet on December 20 1940 as the USS Albemarle (AV-5). After nearly two decades of service, Albemarle was decommissioned on October 21, 1960 and consigned to the Norfolk group of Atlantic Reserve Fleet, prior to her eventual transfer to the James River Fleet, She was struck from the Navy roster on September 1, 1962.
On April 7, 1964, Albemarle emerged from moth balls. She was converted to an Aircraft Repair Ship, Helicopter, at Charleston, South Carolina. Conversion included a 50 by 150 foot helicopter pad mounted aft. Helicopters forwarded to the repair ship by barge, were hoisted aboard by a pair of cranes, each boasting a lift capacity of 20 tons. On March 27, 1965, she was reclassified and renamed; and the Corpus Christi Bay (T-ARVH-1) was assigned to the Military Sealift Command in January 1966.
Her first deployment to Vietnam saw the repair ship commanded by Captain Harry Anderson, with a crew of 129 bluejackets. Aboard, too, was Lieutenant Colonel Harry O. Davis, U.S. Army, with 308 specialists and mechanics. T-ARVH-1 operated out of Cam Ranh Bay, South Vietnam, in 1966.
Corpus Christi Bay was struck from the Navy roster for the last time on December 31, 1974. She was sold for scrapping to Brownsville (Texas) Steel and Salvage, Inc., on July 17, 1975.