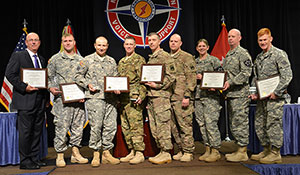 By Ms. Sofia Bledsoe 
The Army aviation community had the opportunity to collaborate during the 41st annual Army Aviation Association of America Joseph P. Cribbins Symposium at the Von Braun Center in Huntsville, Ala. Nov. 5-6.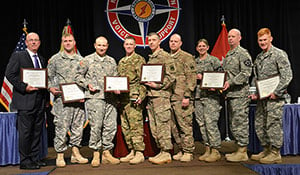 AAAA Functional Award Winners (l to r): MG (Ret.) Jim Myles (Dyncorp); SSG Daniel M. Lewis; LTC Alexander G. Deraney; LTC Thomas C. Petty, CSM Stephen P. McCabe, and MAJ George J. Plys; MAJ Courtney L. Kiluk and 1SG Casey E. Roberts; and representing SGT Sergio Roman II the UAS Soldier of the year, LTC John Brohm. / PHOTO BY SOFIA BLEDSOE, PEO AVN PAOSpeakers included retired Gen. Richard Cody, former Army vice chief of staff; MG Jim Richardson, Aviation and Missile Command commander; BG Bob Marion, Program Executive Officer for Aviation; BG Erik Peterson, commander of the Aviation Special Operations Aviation Command; Barry Pike, Deputy PEO for Missiles and Space; and Huntsville City Mayor Tommy Battle.
Cody delivered a powerful presentation on Geopolitics, emphasizing the emerging threats in the global community. After more than a decade of war, the U.S. may not want to fight again for a long time, "but our enemies want to fight us," Cody said. He is worried about the next generation of violence and stressed the need to continue to make our combat encounters an unfair fight for the enemy. "The stuff we fought with in the last 12 years is what we're going to fight with five years from now," he said.
Marion provided a PEO Aviation update and stressed the need to prioritize and deliver. "The most pressing issue we have right now is funding and what is going to be available," Marion said. He thanked industry members for their support and hard work, recognizing their accomplishment to deliver modernization capabilities to the battlefield while fighting two simultaneous wars. "It really is a testament to our ability to work together and solve problems," Marion said. "We have to keep that up…we're asking you to do it again."
Army aviation makes up 25 percent of the Army's equipping budget. That makes the aviation portfolio a target when the Army needs to pay other bills. Speaking at his first Cribbins symposium as the AMCOM commander, Richardson talked about his vision for 2025 which features six core competencies: Support to Acquisition, Sustainment Logistics, Organic Industrial Base, Field/Sustainment Maintenance, Calibration, and Security Assistance. He emphasized that the AMCOM workforce is operationally focused to support everyone in the field.
Peterson highlighted the significant accomplishments of the aviation community, especially in its ability to modernize aviation weapon systems while being in combat in two simultaneous wars. He stressed the need for improvements in range, speed, payload and vertical maneuverability; deployability, compatibility, interoperability, the ability to maneuver through degraded visual environments, cognitive and intelligent decision aides, lightweight precision munitions, Joint Force Networking (ground to air and air to ground), enhanced multi-INT payloads, common operating picture, en route collaboration and connectivity. Finally, he highlighted the need for increased reliability, survivability and sustainability of aviation components and suggested an increasing demand on open architecture. "The challenges that we face together are many, but equal are the opportunities," said Peterson.
The 2014 AAAA National Functional Awards were presented during a luncheon on Nov. 6 and recognized six awardees:
The Donald F. Luce Depot Maintenance Artisan Award to SSG Daniel M. Lewis, Co. D, 3rd Bn., 101st Avn. Regt., 159th Cbt. Avn. Bde., Ft. Campbell, KY;
The Outstanding Logistics Support Unit of the Year to 46th Avn. Spt. Bn., 16th Cbt. Avn. Bde., Joint Base Lewis-McChord, WA – commander, LTC Thomas C. Petty, XO, George J. Plys senior NCO, CSM Stephen P. McCabe;
The Materiel Readiness Award for a Contribution by a Major Contractor to Dyncorp International, Huntsville;
The Fixed Wing Unit of the Year (sponsored by FlightSafety International) to Co. A, 6th Bn., 52nd Avn. Regt., Seoul Air Base, Republic of Korea – commander, MAJ Courtney L. Liluk, senior NCO, 1SG Casey E. Roberts;
The Unmanned Aircraft Systems Soldier of the Year (sponsored by General Atomics Aeronautical Systems) to SGT Sergio Roman II, Co. E, 3rd Avn. Regt., Hunter Army Airfield, GA (received by his battalion commander, LTC John Brohm);
The Unmanned Aircraft Systems Unit of the Year (sponsored by Textron Systems) to 2nd Stryker Cavalry Regt., Vilseck, Germany – received by squadron commander, LTC Alexander G. Deraney.
Ms. Sofia Bledsoe is the public affairs officer for the Program Executive Officer Aviation located at Redstone Arsenal, AL.
Caption: AAAA Functional Award Winners (l to r): MG (Ret.) Jim Myles (Dyncorp); SSG Daniel M. Lewis; LTC Alexander G. Deraney; LTC Thomas C. Petty, CSM Stephen P. McCabe, and MAJ George J. Plys; MAJ Courtney L. Kiluk and 1SG Casey E. Roberts; and representing SGT Sergio Roman II the UAS Soldier of the year, LTC John Brohm. / PHOTO BY SOFIA BLEDSOE, PEO AVN PAO