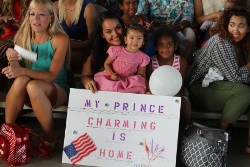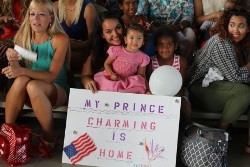 FORT STEWART, Ga. – The 3rd Combat Aviation Brigade conducted manned and unmanned teaming (MUM-T) between the AH-64 Apache attack helicopter pilots and the MQ-1C Gray Eagle unmanned aerial system for a remote Hellfire missile engagement at the Multi-Purpose Range Complex on Fort Stewart June 20.
It was the first time the Vipers of the 1st Battalion, 3rd Aviation Regiment utilized the MQ-1C Gray Eagle unmanned aerial system of Company E, 3rd CAB to positively identify a target, laser designate it, then engage with an AH-64 Apache attack helicopter on Fort Stewart.
Col. John D. Kline, commander, 3rd CAB explained why this was such an important event.
"This is significant because it's the first time this division has fired a remote Hellfire shot using a laser designator from a [MQ-1C] Gray Eagle on this installation. The low altitude that the Apache's fly reduced the surface danger zone (SDZ) small enough so we didn't have to close down all of the road networks through all of southeast Georgia just to conduct this Hellfire shoot."
Kline said it was also important because after this engagement Fort Stewart could become the premier range location to conduct this sort of aviation live gunnery training on in the future.
It was a team effort with the team from Range Control and the Department of Public Works working side by side with Chief Warrant Officer 4 Robert Senefeld, brigade master gunner, 3rd CAB. Senefeld said there were other benefits to having a range such as this available locally for the pilots to train on.
"By keeping this training here locally, we are saving the taxpayer a significant amount of money," Senefeld said.
In the recent past, most of the Hellfire training was done in country in Afghanistan or Iraq. But as the U.S. role in those conflicts either changed or ended, it became necessary for the CAB to develop such a range.
"The first time you see or experience something like this shouldn't be when you're in bad guy territory," Senefeld said. "Its crawl, walk, run training and we are getting to the run phase stateside which is much better because no one is shooting back at you."
At a time when resources can be difficult to attain, Kline said he is excited for the future of aviation in the Fort Stewart area.
"Nobody else is training with live Hellfire's right now," Kline said. "The last time we fired Hellfire's here was in 2006 and we had to close off all access to the post. We had road guards on every gate making sure no one got in."
The Falcon brigade commander said this is the first part of a two-stage process in which we are improving the capabilities for Army aviation on Fort Stewart. After validating the Hellfire range, the brigade plans on validating a dual door gunnery range for the UH-60 Black Hawk helicopter and the CH-47 Chinook helicopter.
"Here at Fort Stewart and Hunter Army Airfield we are the premier power projection platform on the east coast," Kline said. "However, we have lacked the train up capability for a long time. With the Hellfire and dual door capable range we will have one of the most lethal, flexible and agile brigades in the 3rd Infantry Division."
This article was submitted by SGT William Begley