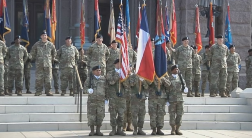 Austin, TX
July 15, 2017
Video by Master Sgt. Michael Leslie
36th Infantry Division
Check out this video of the 36th Infantry Division Change of Command Ceremony at the Texas Capitol on July 15, 2017. The division Maj. Gen. S. Lee Henry as the new commanding general and bid farewell to Maj. Gen. Lester Simpson for his command since 2014.