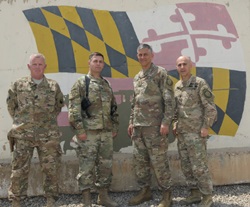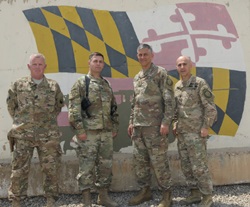 May 6, 2017
29th Combat Aviation Brigade
Photo by Staff Sgt. Isolda Reyes
Col. Mark Beckler, 29th Combat Aviation Brigade Commander (center left), Lt. Gen. Stephen Townsend, Commanding General, Combined Joint Task Force–Operation Inherent Resolve, and their Command Sergeants Major pose against a Maryland-flag inspired mural at Camp Taji, Iraq. The 29th CAB is deployed in support of Operation Spartan Shield – an ongoing mission in the U.S. Army Central Command area of operations – and Operation Inherent Resolve and includes over 1,500 service members from the Virginia, Texas and Puerto Rico National Guards, the Regular Army, and U.S. Air Force.