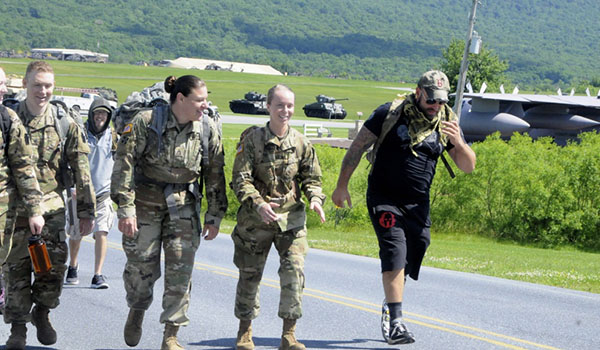 FORT INDIANTOWN GAP, Pa. – Leaders across the Army strive to motivate their Soldiers to be the best they can be. They work tirelessly and attend multiple schools learning how to mold their Soldiers to successfully complete missions and work as a team.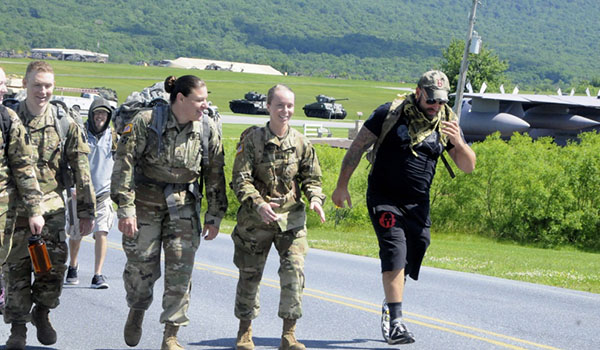 Staff Sgt. Jessica Raven, with the 28th Expeditionary Combat Aviation Brigade's airfield management detachment, does that by teaching her Soldiers to respect and appreciate the work they do. She had an opportunity to show her Soldiers a deeper meaning for their service by participating in a memorial ruck march here with wounded combat veteran Earl Granville June 3, 2019. 
Granville is a nine-year veteran of the Pennsylvania Army National Guard and a combat wounded leg amputee. Raven began following and reading about Granville two years ago. She was inspired that a fellow veteran and fitness enthusiast from Pennsylvania was overcoming his challenges by completing multiple athletic events. 
"To see this guy do what he does with one leg, was unbelievable to me," said Raven. "He just crossed the finish line of the Boston Marathon carrying the American flag this year again. From what he came from, that's beyond strength."
The ruck march Raven and her team participated in was in memory of Spc. Derek Holland and Maj. Scott Hagerty, who were killed in action by a roadside bomb in Afghanistan June 3, 2008. Granville was injured during that attack and conducts this ruck march annually in Holland and Hagerty's memory.
"These two Soldiers were with him when his life changed forever. He overcame and he is living his life the best way he knows to honor these two gentlemen," said Raven. "If he can live a life to honor this part of his family, that is not by blood but by choice, then I can do the same."
Raven, as well as Spc. Alynna Marin, Spc. Sean Rudnik and Spc. Madison Gress, all with the brigade's airfield management detachment, participated in the ruck march, which began at the corner of Lackawanna Street and Fisher Avenue and ended at Holland's resting place at Indiantown Gap National Cemetery.
"I looked at [Holland's] picture and I can see my young Soldiers staring back at me. They have fire and ambition. They want to see and experience. They want stories to tell and memories to have," said Raven. "What kind of leader do I want to mold my Soldiers to be?"
As part of the ruck march, participants got to take turns carrying a cinder block. Named "Cindy" by good-nature, Granville carries the cinder block during some events to represent the weight of a burden placed on someone's shoulders, but that it can be overcome through determination and support by those around them. 
"One thing I want my Soldiers to understand is that this Army isn't always glamour and college money," said Raven. "This Army is sometimes struggles and family that isn't blood. It's being there to support the person beside you because that person beside you is going to understand your fire, anger, excitement, goals and ambition. They'll understand your life."
Raven hopes that her Soldiers learn how to not take losses in vain, but in value and honor and that the best things are earned, not handed to them. She hopes to inspire her Soldiers to teach the next generation to have that fire and respect for their Army family. The first step, Raven says, is to honor those who came before them.
"I hope my Soldiers can remember that as well. No matter where they go in the Army, I hope I can be that root system that they can look back at and say, 'you remember that crazy NCO we had? She taught me,' and I hope that story ends with a laugh or smile," said Raven. "I hope I can give them the best part of me to hand down to the next generation."