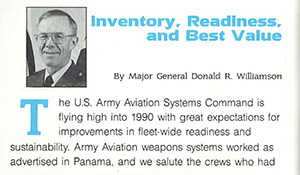 Not much is written about it; rarely does anyone speak of it. Seems not to touch a chord with most, let alone sweep anyone off their feet. Frankly, it is just not be sexy; yet, without this inelegant, colorless but indispensable function, Army Aviation would be put out of business. And just what is this function considered so vital? . . . Inventory control.
From the acquisition process to making ready parts and equipment for man and machine, Army Aviation can only support the foot slogger when those aspects of inventory control are honed to the degree of a well-oiled combat machine.
Major General Donald R. Williamson, CG U.S. Army Aviation Systems Command out of St. Louis, observes, "Quality stuff on time. That equates to approximately 30,000 separate line items of stock that we buy, store and ship to meet the needs of Army Aviation. We have professional, dedicated staff that rides herd on inventory and does their very best to keep stock on the shelf."
Major General Williamson continues, "We have between 9-10,000 contracts in work at any one time and a certain percentage get hung up in the system: Contract negotiations, first article test failures, contractors not achieving rate or schedule, nonconforming parts and, in some cases, bankruptcy."
Army Aviation readiness and sustainability is not possible without a proper system to provide the necessary equipment and spare parts . . . and this is inventory control.
Source: Williamson, MG Donald R., "Inventory, Readiness and Best Value," pages 14 & 17, Army Aviation, March-April 1990.