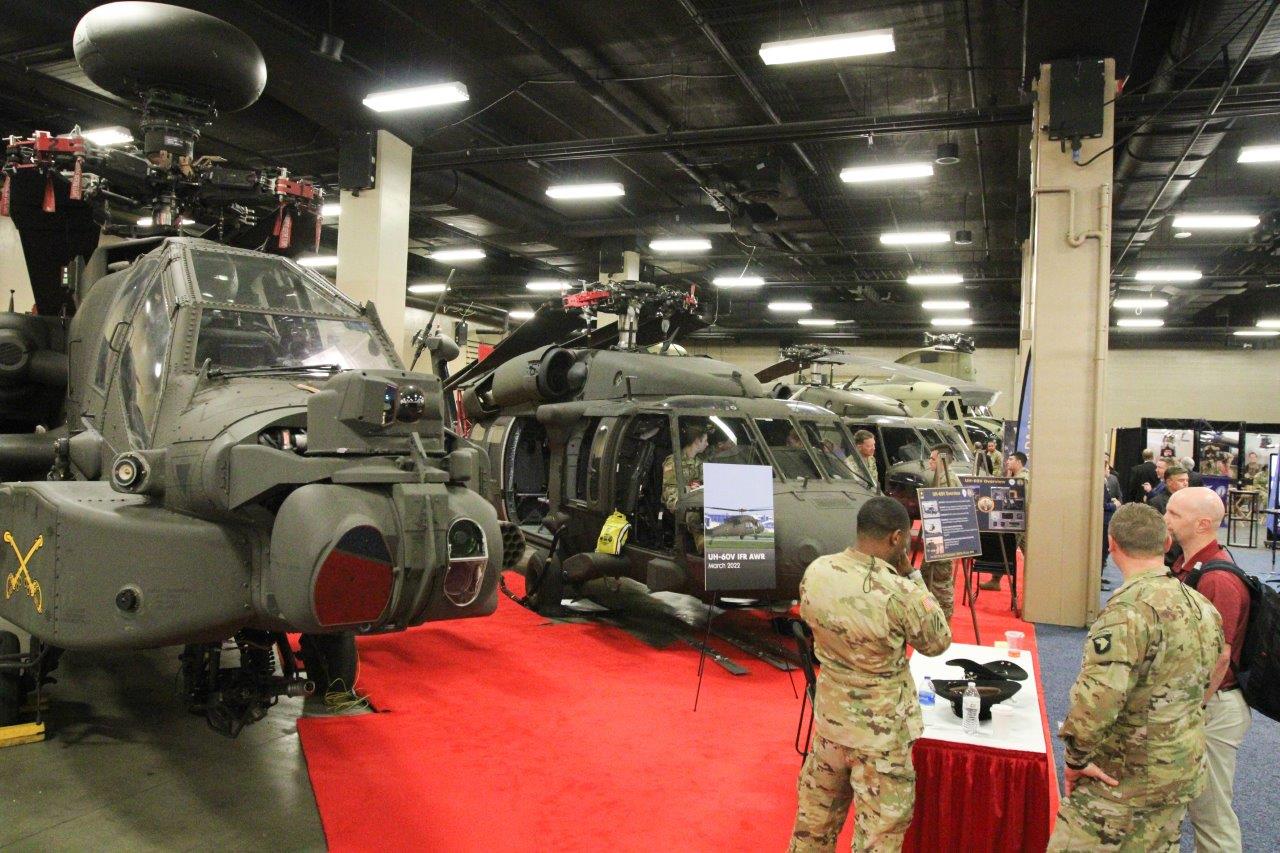 Many displays of Army Aviation's might were seen throughout the 280,000 plus square feet of exihibit hall space.
AAAA President's Cockpit / MG Tim Crosby, U.S. Army Retired:
I hope everyone has recovered from last month's Summit in Nashville. If you could not make it, you missed our largest and what many are declaring our best AAAA Summit ever. It may have taken us three years to get there, but the 2022 AAAA Annual Summit by all metrics was a huge success. You could just feel the energy throughout the briefings, down on the floor and at the social events. Navigating the last six months leading up to the Summit were high adventure indeed as COVID cases rose and fell and rose and fell, but at the end of the day our timing was just right.
From the ribbon cutting on Sunday, April 3, 2022, with the Chief, GEN McConville, Chief of National Guard, GEN Hokanson and the Six-Pack Plus one, to the final Soldier Appreciation Concert on Wednesday night, the event could not have gone better. Finally getting together again in real time, with real people, in a real place was a real pleasure and was enabled by YOUR AAAA team. From record attendance at 8,000, to all-time high exhibit revenue, the 2022 Summit was an outstanding event, focused on our AAAA Pillars.
That said, the 2022 Summit literally would not have happened if it was not for the strong and sustained support of our Branch Chief, MG Dave Francis and his team. The encouragement and particularly the expertise and professionalism they displayed in getting the Administrative Assistant to the Secretary of the Army's questions answered and securing the final approval for military attendance at the Summit on March 10, 2022 was off the charts. During our semi-annual meeting, the National Executive Board (NEB) recognized Branch Command Surgeon, COL (Doctor) Nicole Powell-Dunford with a Silver Order of St Michael and a AAAA lifetime membership. Nicole is the one that shepherded us through the wickets to a low-risk health assessment by Health Command on March 4, 2022 that helped pave the way for the AASA's decision.
Combined with our event cancellation insurance from the last two years, our Association has emerged from the pandemic at an all-time financial strength in terms of both assets and net earnings, and this 2022 Summit has only improved on that. Membership is also surging with almost 19,000 members, a recent record.
Special thanks to all our industry Corporate Members who stuck with us through two cancelled Summits, many of them simply rolling the money paid for their exhibits from year to year. Our industry partners are key members of our association; we could not be successful without them. As many of you know, AAAA has not raised its individual membership dues since 1998. Exhibit sales at the Summit each year makes this possible by offsetting the deficit in dues. Thank you industry partners!
Make sure you flip back to the full photo review of the Summit starting on page 42 to get a real feel for the event. If you were not able to join us this year, put it on the calendar for next year April 26-28, 2023. You won't be disappointed!
As I continue my trek around to all our 79 chapters, (I have visited 36 so far), my purpose is to emphasize that chapters and their members are what we are all about. The chapters provide the most relevant personal experience to our members on a month-to-month basis. I challenge you and encourage you to gather frequently offering professional development, networking, comradery, and yes, just plain fun. What a great opportunity for leaders to mentor and embrace their aviation teams. We at AAAA National are here to help you facilitate your chapter activities.
After seeing all the Soldiers, civilians, and industry members, the technology, and the energetic spirit at the AAAA Annual Summit a few weeks ago, I have to say there is no doubt that together AAAA and the Army Aviation Branch are truly… Above the Best!
MG Tim Crosby, U.S. Army Retired
35th President, AAAA