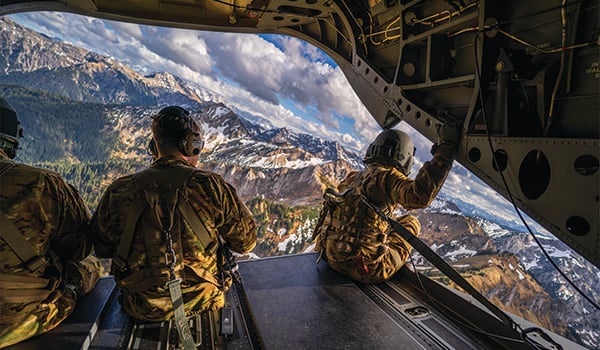 ARMY AVIATION Magazine is proud to present the winners of our annual photography contest. 33 qualified AAAA members, submitting 93 Army Aviation related photographs taken during CY 2019, competed for the top 12 places. We congratulate the winners and thank all of the contestants for their efforts and service. We invite all AAAA members to participate in our 2020 contest. Visit the AAAA website, quad-a.org for details and submission requirements. Bill Harris, Publisher
---
First Place – "Office View" by MAJ Robert Fellingham
Ansbach, Germany
May 4, 2020; Bavarian Alps
(Left to Right) CPT Derek Houser, CPT Nicholas Brischler, and SGT Kevin Pagan enjoy the view from the ramp of a CH-47 Chinook from B Co., 1-214th General Support Aviation Battalion during a high-altitude training flight in the Bavarian Alps, Germany.
---
Second Place – "Sunset Rockets" by MAJ Bethany Barden
Burlington, North Carolina
January 5, 2020; Asheville, NC Airport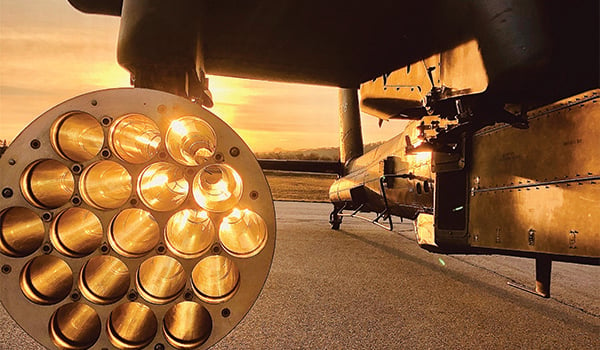 Waiting on nightfall for departure in an AH-64D.
---
Third Place – "Overwater Training" by CW2 Alyssa A. Carlomusto
Camp Humphreys, Korea
December 14, 2020; Camp Humphreys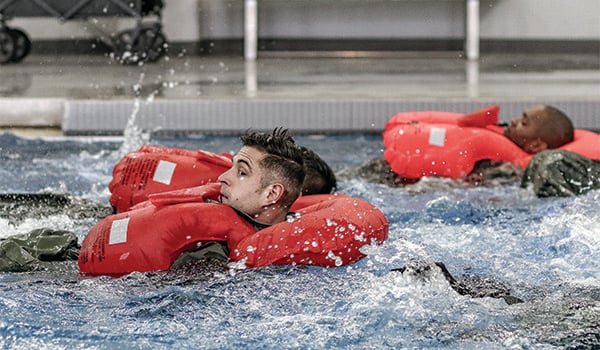 3rd Military Intelligence Battalion's fixed wing pilots conduct Aviation Life Support Equipment (ALSE) Overwater Training. Pictured are CW2 Benjamin Moul and CPT Paris Larkin.
---
Fourth Place – "Business End of Big Windy" by MAJ Robert Fellingham
Ansbach, Germany
August 5, 2020; Grafenwöhr Training Area, Germany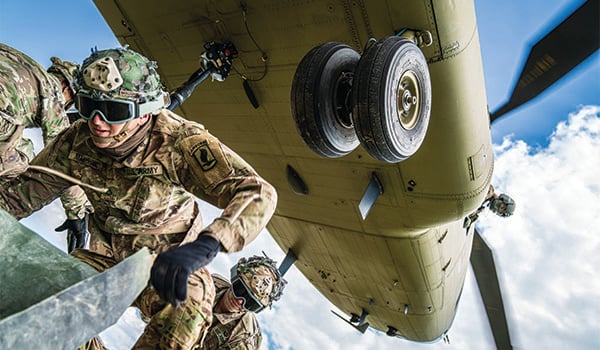 U.S. Army SGT Joshua Skorski, a CH-4 7 crew chief with the 12th Combat Aviation Brigade, Wings of Victory, relays vital position information back to the Chinook pilot from his side window as paratroopers from the 173rd Airborne Brigade hook up their pallet of equipment during Exercise Saber Junction.
---
Honorable Mention – "15U Scanning Lanes" by SGT Justin Ashaw
Ansbach, Germany
September 21, 2020; Vilseck, Germany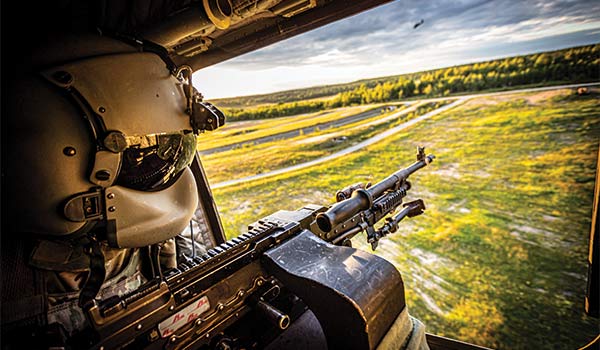 MOS 15U Crew Chiefs qualifying on aerial gunnery range.
---
Honorable Mention – "Bucket Training, California Fires" by CW3 George "Geoff" Laubhan
Boise, Idaho
August 26, 2020; Boise, Idaho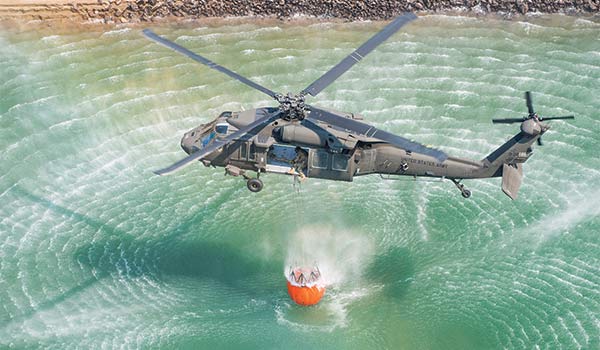 Flight crew assigned to the Idaho Aviation Group conducts final waterbucket training prior to departing Idaho to assist California with wildland firefighting efforts. Pilot in Command – CW3 George G. Laubhan, Jr.; Pilot – CW3 Anthony D. Hill; Crew Chief – SGT Daryn W. College.
---
Honorable Mention – "Reflections" by CW2 Michael R. Padiong
Camp Humphreys, South Korea
November 4, 2020; Camp Humphreys, South Korea


Standing water after a night of heavy down pour. RC-12X's were pulled out of the Igloo Hangars for the mission equipment specialists to pre-flight.
---
Honorable Mention – "The Bigger Fish" by 1LT Austin T. Lachance
Clarksville, Tennessee
July 4, 2020; Bagram Airfield, Afghanistan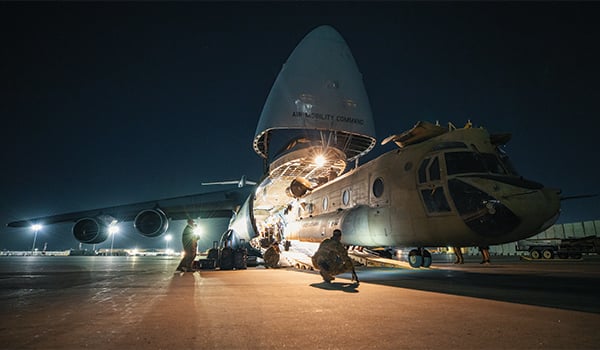 A CH-47F Chinook from B/2-3rd Aviation "Hercules" is loaded into a C-5 Super Galaxy on the ramp at Bagram Airfield following the completion of a deployment under 10th Combat Aviation Brigade supporting Operation Freedom's Sentinel.
---
Honorable Mention – "Hannibal's Chariot" by 1LT Austin T. Lachance
Clarksville, Tennessee
October 21, 2020; Bavarian Alps, Germany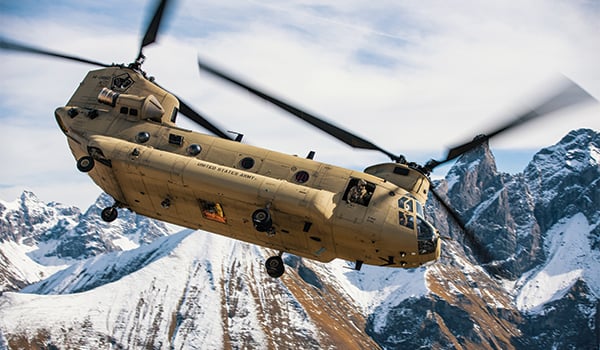 A CH-47F with the mighty "Pachyderms" of B/6-101 General Support Aviation Battalion banks into the valley while conducting high altitude training in the Bavarian Alps during Operation Atlantic Resolve.
---
Honorable Mention – "On the Move Takeoff" by MAJ Daniel Lauer
Williamsburg, Virginia
August 14, 2020; Fort Riley, Kansas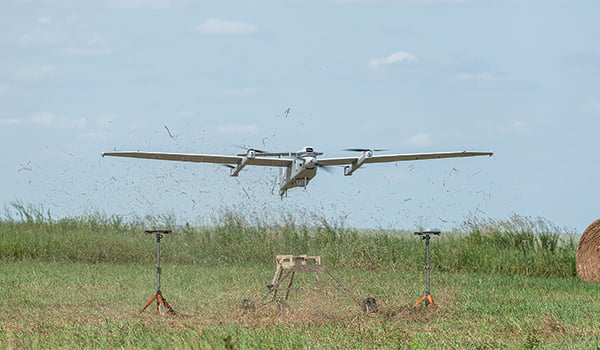 Fox Troop, 1-6 Cavalry deviates from their RQ-7 Shadow flights to test the JUMP-20 Future Tactical Unmanned Aircraft System (FTUAS) as a potential replacement. As the first ever attempt at mobile control of a tactical UAS, Soldiers successfully provided route reconnaissance ahead of their own convoy.
---
Honorable Mention – "The Snake Arrives at Its New Home" by Mr. David J. Weller
Defiance, Missouri
September 27, 2020; Creve Coeur Airport, St. Louis, Missouri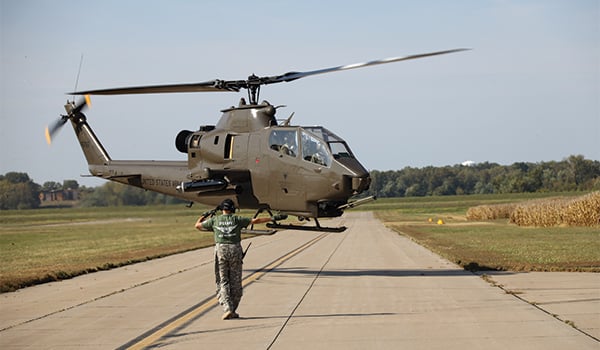 AH-1F 67-15766 is ground guided by Naseer Ahmad as the snake arrives in St. Louis from Army Aviation Heritage Foundation(AAHF) headquarters in Hampton, Georgia. The aircraft is piloted by CW5(R) Karl Keller and L TC(R) John Woodward is in the front seat and joins the UH-1H and OH-58A+ at the AAHF Gateway Chapter to provide ride events and demonstrations in the Midwest region.
---
Honorable Mention – "Sunset at Gray Army Airfield" by CPT Jeremy Sipantzi
Tacoma, Washington
May 18, 2020; Joint Base Lewis-McChord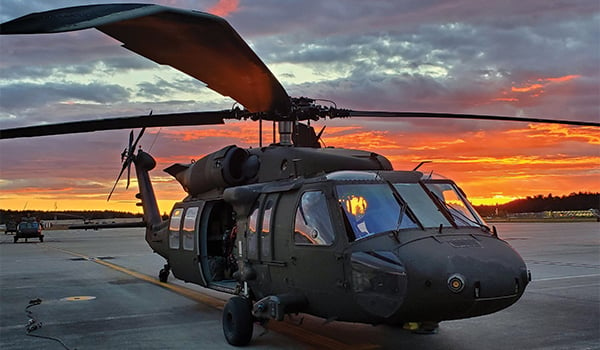 UH60M from 2-158 Assault Helicopter Battalion just before run-up.