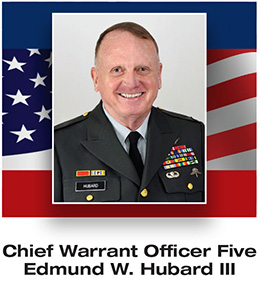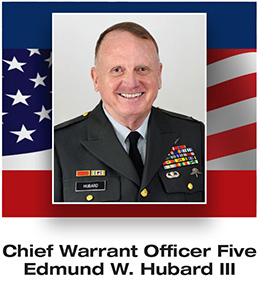 CW5 Ned Hubard's 31-year career in Army Aviation combined a unique mix of operational, research and development, and command and staff assignments with over 20 years in special mission units (SMUs), flying an amazingly diverse range of aircraft from UH-1s in Vietnam to piloting the first mission into Afghanistan in a Russian Mi-17. In fact, Hubard has over 13,000 flying hours in over 150 types of aircraft and helicopters, is basic airborne qualified and trained as a high-altitude-low-opening / high-altitude-highopening (HALO/HAHO) jumper.
In the early 1980s, following the failed DESERT ONE Iranian hostage rescue mission, Hubard was recruited into Operation HONEY BADGER, the second Iranian hostage rescue mission, making him a "plank holder" in what
would become the famed 160th Special Operations Aviation Regiment (Airborne).
Following the release of the hostages, he was nominated to serve in a newly created aviation unit doing research and development. He spent the rest of his career developing concepts for unique aviation systems and missions. Many of the helicopter and mission equipment packages that are in use today by conventional Army Aviation were developed and tested by Ned Hubard in combat.
Retiring in 2000, Hubard, as a civilian, continued to support Army Aviation and ground forces, flying the first U.S.-piloted helicopter, as part of the Jawbreaker team in Afghanistan, two weeks after the terrorist attacks of 9/11.
No warrant officer has done more for Army Aviation, operationally, tactically, and technically than CW5 Ned Hubard. He epitomizes the quiet professional and warrior and is truly 'Above the Best.' 
---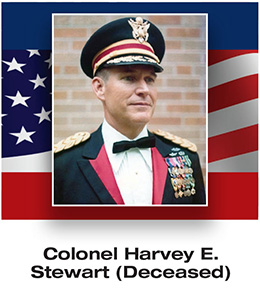 Joining the Army in 1945 as an aspiring aviator and enlisted man at the age of 17, Col. Harvey E. Stewart received the first of his fifty four flying medals while serving in Korea as an Artillery Forward Observer in 1953. A Master
Army Aviator with over 12,000 flight hours and more than 1,000 combat missions, Col. Stewart received a total of 11 awards for valor including the Distinguished Service Cross, two Bronze Stars with "V" device, and two Purple Hearts.
As a Major, Stewart was known as a legendary Army Aviation commander of the 118th Aviation Company from 1964 – 65 in Vietnam. During the June 1965 battle of Dong Xoai, the 145th Aviation Battalion's response to the enemy's major offensive was largely coordinated by the 118th led by Stewart which later expanded to include the entire 145th and received a Presidential Unit Citation for its part in the battle. In addition, during the battle, Stewart volunteered to lead three unarmed helicopters to rescue Vietnamese and Americans in an isolated military compound which was being overrun by hostile forces. Disregarding the withering enemy fire, Stewart landed inside the compound and set up defensive fire positions while evacuating personnel. On takeoff, he piloted his heavily overloaded and damaged aircraft through a barrage of hostile fire and successfully evacuated the besieged personnel. For his heroism he was awarded the Distinguished Service Cross. His following assignments included a second Vietnam combat tour, and training aviators for combat at Fort Wolters, Texas, as he continued to contribute to
the advancement of Army Aviation.
Highly respected for his personal courage, as a military leader, and as a person, he stood tall for Army Aviation from some of its earliest days to the Vietnam era that changed the face of modern warfare. 
---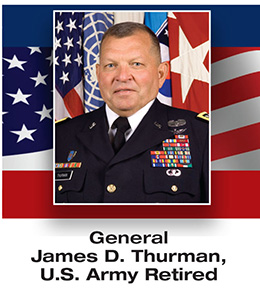 Not since the famous "Howze Board" established the concept of Air Mobility and Air Assault in 1960 has anyone done more to shape the future for Army Aviation than Gen. (Ret.) James D. (JD) Thurman. In 2003, at the request of the Army chief of staff, then Maj. Gen. Thurman convened the first Army Aviation Task Force to revamp the entire structure of Army Aviation. Combining his unique experiences as both an Armor officer and former Army Aviator he literally set the course for the branch for the next 20 years.
Earlier in his career as a major, he had served as Brigade Operations Officer for the Apache Training Brigade at Fort Hood, Texas and personally supervised execution of the AH-64 Apache Single Station Unit Fielding and Training Plan for the first ten squadrons/battalions. He was recognized as the AAAA Aviation Trainer of the year in 1987.
As both a senior Army leader and experienced aviator, he led the Aviation Task Force to redirecting $13 Billion from his recommended cancellation of the RAH-66 Comanche in order to buy 900 aircraft and modernize the existing fleets of AH-64s, CH-47s, and UH-60s as well as aviation survivability systems, ammunition, and unmanned systems. The Task Force addressed all aspects of aviation functionality across the total Army and resulted in the army aviation force we have today.
An operational "Soldier's Soldier," Gen. Thurman retired after 38 years in December 2013. There is no doubt that his leadership has made his former branch the most potent Army Aviation force in the world.