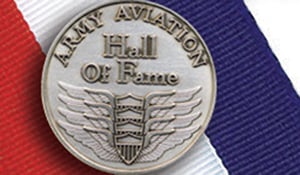 As historians began to document the many battles of the Vietnam War, it became known as the "Helicopter War." From the first significant involvement of the U.S. military in 1961, to the departure of U.S. forces in 1973, battlefield operations became heavily dependent upon Army aviation and especially the helicopter.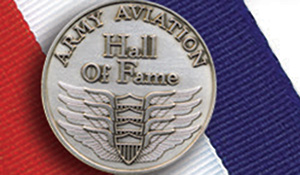 Acts of bravery, flying skill and battle leadership became commonplace, but by no means ordinary.
The AAAA-sponsored Army Aviation Hall of Fame was established to honor those persons who have made an outstanding contribution over an extended period, or a truly exceptional achievement, and to record those individuals and acts for posterity.
The Army Aviation Hall of Fame (AAHOF) honors not just flying heroes but all commissioned, warrant and non-commissioned officers and Soldiers, and civilians from government and industry who have contributed to Army aviation.
---
LTC PAUL A. BLOOMQUIST (deceased)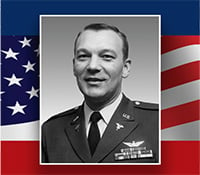 Throughout his short, but brilliant career, LTC Paul A. Bloomquist represented the very highest traditions of Army Aviation and strongly promoted the DUSTOFF spirit.
Graduating from the Helicopter Officer's Course in 1954, his initial assignment was with the 54th Medical Detachment (Helicopter Ambulance) in South Korea.
After he returned to the U.S., his keen aviator skills were called on during a massive snowstorm that blanketed much of the northeast, in the winter of 1958. Flying a UH-19 helicopter in extremely hazardous conditions, Lieutenant Bloomquist logged 55 rescue missions and made 62 drops of food, medicine, and emergency supplies to travelers, farmers, and villagers cut off by the heavy snow and earned his first DFC.
It was during his initial tour in Vietnam that CPT Bloomquist distinguished himself as one of the Army's finest military officers and premier aviators. He kept extending his stay in-country, and during 21 months of daily combat flying, was cited for heroism several times. Among his four Distinguished Flying Crosses, a Bronze Star, three Purple Hearts, thirty-six Air Medal citations, one of his DFC actions exemplifies the kind of courageous and dedicated pilot he had become.
On 21 June 1964, Bloomquist's helicopter was struck by enemy fire that wounded him. He disregarded his own wounds and continued flying the remainder of the day and well into the night, logging nearly 13 hours of flight time until all of the casualties were evacuated. Only then, did he seek care for his own wounds. Experienced and blooded, Paul Bloomquist was the personification of charisma. A proud and almost defiant man by nature, he served as an outstanding role model for the younger pilots in his unit. Captain Bloomquist never refused a mission despite the enemy situation or bad weather and he seemed to be at his happiest when flying the most difficult missions. Because of his heroic service in Vietnam, Captain Bloomquist was selected as the AAAA's "Army Aviator of the Year" in 1964.
Major Bloomquist returned to Vietnam in April of 1967 where he continued his "mission first" attitude. His knowledge of combat flying and leadership skills proved especially valuable during the "TET of 1968" when thousands of American and Vietnamese servicemen and civilians were wounded or killed.
After promotion to Lieutenant Colonel, he was assigned to the 3rd Armored Division in Germany during a particularly difficult time in our nation's history with rampant drug, social, and racial problems in the ranks. LTC Bloomquist attacked these issues head on and was able to quickly channel his soldiers' energies toward productive goals and maintain a high state of unit readiness.
On 11 May 1972, after spending his normal long day at the office, he walked across the street from the headquarters building to the Officers Club to exchange dollars in order to take his wife to dinner. As he started up the stairs to the Club, a series of three violent explosions occurred, killing him instantly. The terrorist group Baader-Meinhof gang, claimed responsibility.
Although his career ended far too early, he left behind a proud legacy of dedication, excellence, and unmatched courage for all Army aviators and crews to follow. He is a DUSTOFF hero and exemplar who made outstanding and enduring contributions to Army Aviation through his actions and selfless service, and is well deserving of induction into the AAAA Hall of Fame.
---
CW5 KARL H. MAIER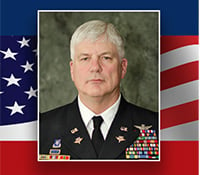 CW5 Karl Maier enlisted in the United States Army in December 1975. He completed Warrant Officer Candidate School and received his Aviator wings in 1984. In July 1987, CW5 Maier successfully assessed to the 160th Special Operations Aviation Group (Airborne).
CW5 Karl Maier's impact over the last 26 years on Special Operations Aviation has been immeasurable. He has served the 160th in every capacity from platoon instructor pilot to Regimental Warrant Officer. His involvement in every combat operation since 1987 places him at the pinnacle of Special Operations experience. His pioneering of Night Vision Goggle, (NVG), flight techniques and procedures, which he developed and proved through more than two decades of combat, revolutionized the effectiveness of Army Aviation on the battlefield.
In 1993, during his deployment to Somalia as the primary planner and flight lead for the Special Operations Task Force Ranger during Operation GOTHIC SERPENT, CW5 Maier was awarded the Silver Star for leading the recovery operations of personnel injured after an MH-60 was shot down. Piloting the MH-6 'little bird' Star 41, he searched for and found one of the two Blackhawks minutes after it had been shot down. His co-pilot noticed a fallen soldier propped against a wall severely bleeding from the stomach. Although landing in a big intersection near the wounded soldier would have been far easier, he eased the bird up the street between two stone houses and set it down on a slope. As he used his aircraft to shield the wounded, he engaged the numerically superior advancing enemy with his MP5 expending hundreds of rounds through his door opening while his copilot extracted two critically wounded soldiers from the ground force. As the consummate and quiet professional, Karl successfully resisted telling his story to anybody who would ask, for over 20 years.
CW5 Maier participated in numerous operations, including Operations JUST CAUSE, DESERT SHIELD, DESERT STORM, GOTHIC SERPENT (Somalia), UPHOLD DEMOCRACY, JOINT ENDEAVOR, ENDURING FREEDOM (OEF), and IRAQI FREE-DOM (OIF). Since 2003, CW5 Maier deployed 5 times to OIF and 7 times to OEF, providing unsurpassed experience and leadership in pursuit of the strategic objectives of the United States.
In April 2006, CW5 Maier was assigned duties as the first Regiment Chief Warrant Officer, guiding and mentoring the Regiment's 300+ Warrant Officers and providing support directly to the Regimental Commander.
CW5 Maier's performance as a Night Stalker Flight Lead and consummate trainer throughout the Regiment mark him as the epitome of a Special Oper-ations Aviation Officer. Up until his retirement ceremony, Maier was the longest-tenured Night Stalker in the 160th SOAR (A). He had been in the unit since 1986, with a majority of his time serving in the same company. Pretty much everything you've read in any book about the 160th, Karl was a part of.
CW5 Karl Maier's impact on the 160th SOAR(A) extends far beyond his personal achievements. He has been a mentor and advisor to multiple generations of Aviators, Commanders, and enlisted Soldiers. Karl Maier has helped to develop many of the NVG Tactics Techniques and Procedures, (TTP's), and Aircrew Training Manual, (ATM) tasks which define modern Army Aviation. CW5 Maier's legacy will continue for many years to come, as the Night Stalkers who he has mentored over the past 26 years continue to uphold the high standards to which he has trained them.
---
MSG JAMES W. PONDER, III (deceased)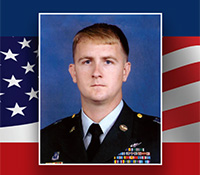 MSG James W. ('Tre'), Ponder III was a native of Franklin, Tennessee. He attended Auburn University for 3 years and enlisted in the Army in 1990.
MSG Ponder dedicated his military career to producing the finest Aviation Non-Rated Crew Members in the world. MSG Ponder's vision of how to revolutionize the MH-47 crew member training program changed and professionalized how Army Aviation trains all its enlisted personnel even to this day.
MSG Ponder was assigned to the 160th Special Operations Aviation Regiment (ABN), the "Night Stalkers" in 1992. He rapidly progressed from MH-47 Crew Chief to Flight Engineer Instructor and conducted over 100 missions supporting the most elite Special Operators in the world.
MSG Ponder was one of the first to deploy after 9/11 and played a major role in all the initial combat actions in Afghanistan against both Al-Qaida and the Taliban. Often these missions were conducted in some of the worst terrain in the country under zero illumination, high altitudes, channelizing valleys and brown-out conditions. The pilots of his battalion always wanted MSG Ponder in the lead aircraft in order to help them in tight tactical situations.
His exceptional grasp of both mission requirements and equipment led to his early selection as a Flight Engineer Instructor. He then developed a Nonrated Crewmember Trainer (NCT) program that is still being used by other Army Aviation units around the world.
He consistently worked long hours and weekends to research new equipment and techniques for improving mission accomplishment resulting in his writing and staffing new publications and crewmember checklists.
In 2002 while serving as Regiment MH-47E/G Standardization Instructor he was directly responsible for the combat readiness of 380 NRCMs across 4 battalions and one training company. He was responsible for writing and updating Army Special Operations Aviation (ARSOA) NRCM publications; Training Circulars and the primary advisor to the Regiment Commander and Command Sergeant Major on NRCM readiness and training.
In addition, he developed and updated Tactics, Techniques and Procedures (TTP's), Programs of Instructions (POI's), and crewmember operational checklists. His extraordinary work ethic and dedication resulted in some of the best employment techniques for the M-134 Mini-Gun, the M240 Machine Gun, FAST Rope operations, External Hoist Operations, Amphibious Operations and Special Vehicle Operations which were later adopted by all Army Aviation units.
On June 28, 2005, MSG Ponder was training on the day shift with 3d Battalion, 160th, in Afghanistan, when a Navy SEAL team called for help. MSG Ponder knew he was more rested than the night crews who had just landed, and he volunteered. During the approach to the landing zone Tre's MH-47 was shot down by an RPG as depicted in the book and movie, "Lone Survivor". Always placing the needs of others above his own, MSG Ponder made the ultimate sacrifice to save his comrades in distress.
MSG Ponder's contributions to this country and Army Aviation will stand as a model for all future Aviation Soldiers to emulate. His lifetime aviation accomplishments have significantly contributed to the advancement of Army Aviation and its place in the force of the future. MSG Ponder is most worthy of election to the Army Aviation Hall of Fame.