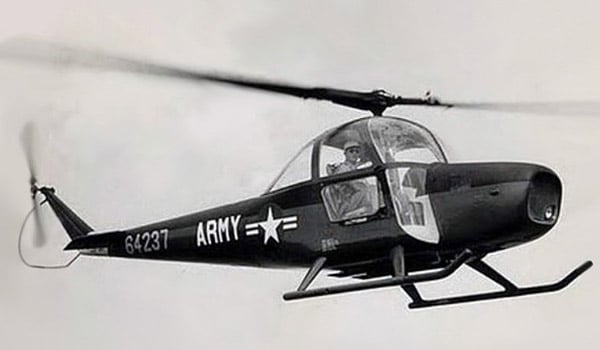 By Mark Albertson: Jack Zimmerman, chief test pilot for Cessna, flew a Cessna CH-1 to the top of Pikes Peak.  He successfully completed hovering tests at 14,110 feet prior to landing.  Such was the first time an aircraft of any type set down atop the mountain.  Time: 7:00 AM.  Date: September 13, 1955.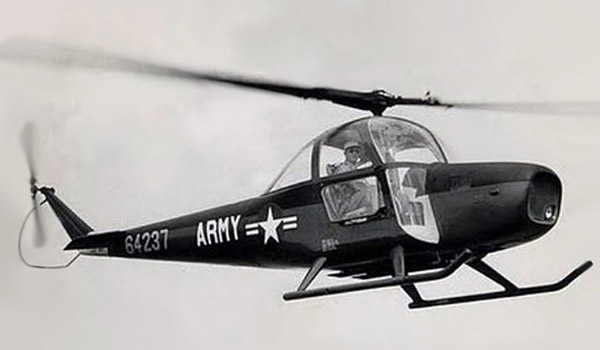 Cessna CH-1 helicopter; or, by the Army designation, YH-41 Seneca.
Zimmerman's hovering demonstrations were effected with a Captain Knowles from Fort Carson aboard.  Then . . .
. . . Zimmerman took on a second passenger and hovered atop the peak.  This was followed by Major General Van Houten, Commander of Fort Carson, riding shotgun for Zimmerman.  The pilot climbed to another 1,000 feet above the peak.  He then shuttled General Houten to Fort Carson.
In preparation for the Pikes Peak demonstrations, Jack Zimmerman flew the CH-1 from Wichita, Kansas to Fort Carson, for a number of altitude flight tests.  With Captain Knowles aboard, Zimmerman guided the CH-1 to an altitude of 17,600 feet above Colorado Springs.  Additional testing was done at Camp Hale, which is 18 miles northwest of Leadville, Colorado, and at an altitude of 9,180 feet.
Additional feats saw Jack Zimmerman fly atop Horn Silver Mountain, 11,300 feet; Ptarmigan Hill, 12,154 feet and Sugar Loaf Peak, 12,567 feet
At Camp Hale, four people were loaded aboard, together with 60 gallons of fuel, and the CH-1 was hovered above the camp.  This was considered an achievement, since during the summer season Camp Hale can be wracked with pronounced conditions of turbulence.
In June 1955, the CAA certified the Cessna CH-1.
To the U.S. Army, this aircraft was known as the YH-41 Seneca.  And in 1957, ten copies were procured for evaluation.  Captain James E. Bowman, was the test pilot for the U.S. Army Aviation Board, Fort Rucker, for the Seneca.  On December 27, 1957, Captain Bowman flew a YH-41 to an altitude of 30,335 feet, setting the altitude record for rotary wing aircraft in the 1,102-2,204 pound range, after which he landed at the Wichita Airport.
Total production run for the CH-1 totaled fifty machines.
Data
Description:                              Four-place observation helicopter.
Manufacturer:                         Cessna Aircraft Company, Wichita, Kansas.
Power plant:                            A single Continental FSO-526 horizontal piston engine of 270 hp.
Rotor system:                          A single two-bladed metal main rotor, 35 feet in diameter; a two-
                                                   bladed metal tail rotor, seven feet in diameter.
Specifications:                         Gross weight:  3,000 pounds; empty weight:  2,050 pounds; length:
                                                      42 feet 5 inches; height:  8 feet 5 inches
Performance:                              Max speed (SL):  107 knots; cruising:  105+ knots; hover
                                                      ceiling: 14,500 feet; max range:  357 nautical miles.
Bibliography
Army Aviation:  Cub to Comanche, Army Aviation Publications, Inc., Westport, Ct., 1992.
"Lands Atop Pikes Peak," page 12, Army Aviation, Vol. 3, No. 10, Publisher:  Dorothy Keston, October 1955.
Remington, Steven, The Cessna CH-1 Helicopter:  A Record Setter, page 123, CollectAir.