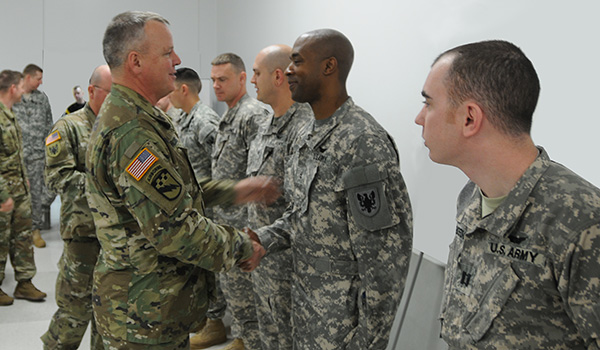 Reserve Components / By BG Scott R. Morcomb: Over the past several years of U.S. Army involvement in the conflicts in Iraq and Afghanistan, one peace-support operation in Europe still holds great significance for the U.S. Army.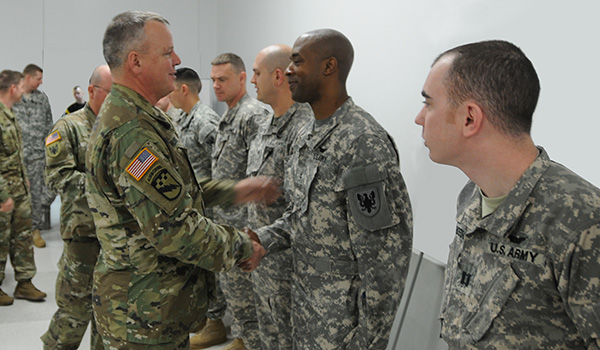 BG Scott Morcomb, commanding general of the 11th Theater Aviation Command (TAC), greets his soldiers returning from an 11-month deployment to Kosovo in support of NATO's KFOR mission, Mar. 7, 2016. / U.S. ARMY PHOTO BY CPT MATTHEW ROMAN, 11TH TAC PAO
That mission is the North Atlantic Treaty Organization's (NATO) Kosovo Force (KFOR) mission. NATO has been leading a peace-support operation in Kosovo since June of 1999 and it was established when NATO's famed, 78-day air campaign against Milosevic's regime, aimed at putting an end to violence in Kosovo, was over.
Some of KFOR's original objectives were to deter renewed hostilities, establish a secure environment and ensure public safety and order, demilitarize the Kosovo Liberation Army, support the multi-national humanitarian effort and oversee with the international peacekeeping presence. Today, KFOR continues to contribute towards maintaining a safe and secure environment in Kosovo and freedom of movement for all U.S. forces and their allies in the region. This region recently saw an increase in the use of multi-component Army capabilities to help meet this intent. Elements from the National Guard and the U.S. Army Reserve, more specifically Army Reserve Aviation, have been involved in this peacekeeping mission since 2014.
Units from the 11th Theater Aviation Command (TAC) deployed utility and aeromedical evacuation company size elements over the past several rotations. The most recent rotation included an 11-month deployment of a UH-60 Black Hawk company from 7th Battalion, 158th Aviation Regiment based out of Los Alamitos, CA and an HH-60 aeromedical evacuation detachment from 5th Battalion, 159th Aviation Regiment, based out of Clearwater, FL.
During the span of their deployment, aviators and aircrew members from the 11th TAC amassed over 1,500 flight hours, conducted actual aeromedical evacuation and forest firefighting missions, as well as participated in several humanitarian training exercises including riot control training exercises. Deployments are often a primary means for U.S. Army Reserve units to build readiness and KFOR was no exception.
"This was a very exciting and successful deployment which allowed my aircrew members to participate in various humanitarian training exercises as well as two real-world firefighting missions by way of our Bambi Bucket® capabilities," added CPT Stephen Kramer, commander of the Black Hawk company, A/2-238th Avn.
A high percentage of the forces that made up this aviation task force were volunteers. "The fact that so many of my Soldiers volunteered to take time away from their families, often missing birthdays and holidays, I feel speaks wonders about the character of those soldiers that serve alongside of me", added Kramer.
Several soldiers, from the 11th TAC, volunteered to teach English to the local population as part of one of the main initiatives of strengthening relationships with the people of Kosovo. "I am extremely proud of all of my Soldiers and still amazes me that we had Soldiers volunteer to teach English to the people of Kosovo, all while still maintaining their operational requirements," added Kramer.
It is safe to say that we, at the command, are very pleased with the accomplishments of all of our Soldiers who made this mission a success. The results of this latest rotation to Kosovo were yet another example of the unique set of skills that our Citizen-Soldier aircrew members bring to the table. The Citizen-Soldiers of the 11th TAC will continue to consistently improve our craft so that when, and if, our number is called to support this region, we will be able to bring extraordinary training and real-world value to our allies and the people of Kosovo.
BG Scott R. Morcomb is the commanding general of the 11th Theater Aviation Command located at Fort Knox, KY.