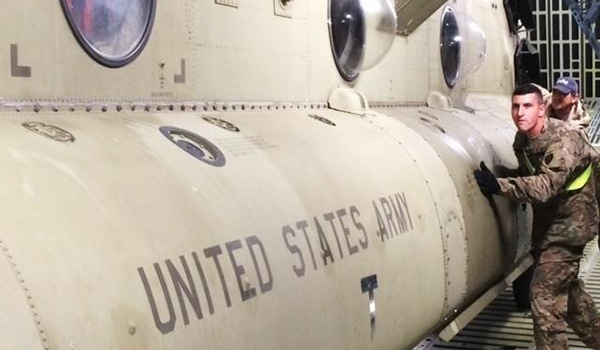 Spotlight / By SGT Jeanne Bujalski: Working together with the U.S. Air Force, U.S. Navy, 101st Combat Aviation Brigade and an aviation contractor team from Illesheim, Germany, Soldiers from the Connecticut Army National Guard 1109th Theater Aviation Sustainment Maintenance Group (TASMG) mission focused on monitoring and offloading Black Hawk, Apache and Chinook helicopters from C-5 Galaxy aircraft, staging them and loading them on a naval vessel for transport back to the United States.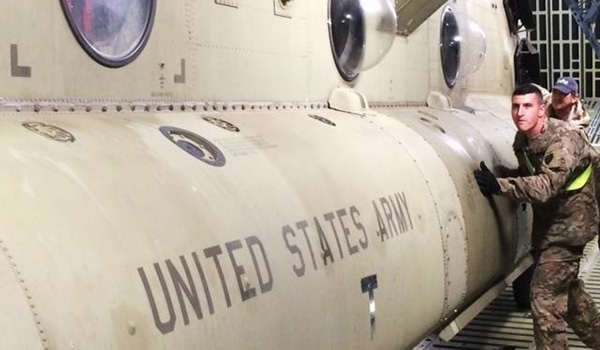 SGT Jeffrey Monteleone assists with unloading a Chinook aircraft from a C-5 Galaxy at the Naval Station in Rota, Spain.
Throughout the months of December and January, the helicopters were flown in to Naval Station Rota, Spain from Afghanistan and will be shipped to the Port of Jacksonville, Florida before being reassembled and flown to their home base at Fort Campbell, Kentucky.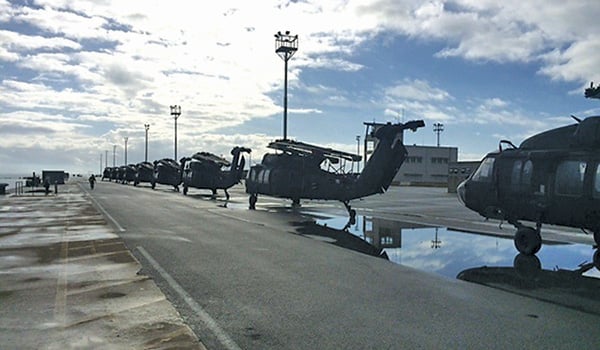 Black Hawk helicopters are staged for loading onto a cargo vessel at the Naval Air Base in Rota, Spain by members of the 1109th TASMG.
Broken up into two work teams, the TASMG crew completed both day and night missions, including loading over 40 Black Hawks on a bulk carrier vessel docked at the port facility of the base located on the Gulf of Cadiz. Because the flight missions constantly rotated, the Soldiers had to work on short notice. The U.S. Army makes up a small contingent on the base and for the 1109th TASMG this marks their first trip to the base providing workload expansion and aviation assistance in support of Operation Enduring Freedom.
The 1109th TASMG is currently deployed to Camp Arifjan, Kuwait in support of U.S. Central Command.
SGT Jeanne Bujalski is the public affairs specialist with the 1109th TASMG, Connecticut Army National Guard.