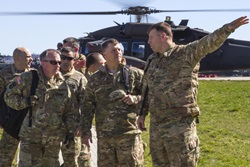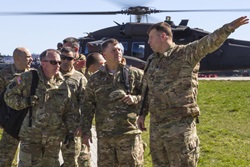 Photos by Spc. Thomas Scaggs
10th Combat Aviation Brigade
Col. Clair A. Gill, 10th Combat Aviation Brigade commander, gives a quick overview of operations to Maj. Gen. Douglas M. Gabram, U.S. Army Aviation and Missile Life Cycle Management Command commanding general, and Maj. Gen. William K. Gayler, U.S. Army Aviation Center of Excellence and Fort Rucker commanding general, at Illesheim Army Airfield, Germany, on March 27. The generals toured the facilities to learn about the Soldiers and procedures that are making the first rotational aviation brigade deployment to Europe a success.
These photos were originally found here.