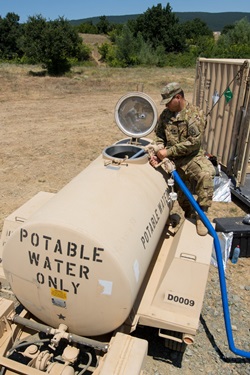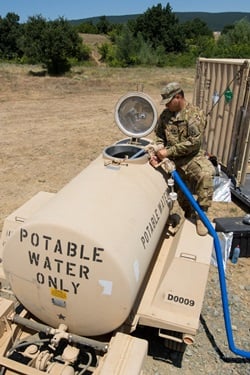 Bulgaria
July 15, 2017
Photo by Petty Officer 2nd Class Christopher Lange
Pfc. Juan Sanchez, a water purification specialist assigned to the 10th Combat Aviation Brigade (CAB), pumps potable water into a tank during exercise Saber Guardian 17, at Novo Selo Training Area, Bulgaria, July 15, 2017. Sanchez and his team can create up to 6,000 gallons of potable water per day using the Tactical Water Purification System to distributed to 10th CAB units participating in the exercise. Saber Guardian is a U.S. Army Europe-led, multinational exercise that spans across Bulgaria, Hungary and Romania with more than 25,000 service members from 22 allied and partner nations.
This photo was originally found here.