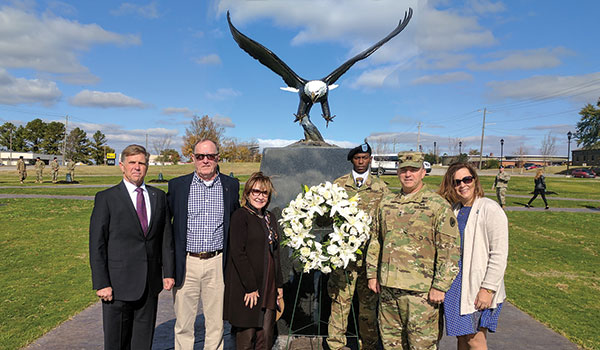 Current and past members of the 101st Airborne Division Aviation community gathered to honor their fallen Aviation Soldiers during the week of November 7th at Fort Campbell, KY.
On Monday, 5th Battalion, 101st Aviation Regiment conducted a remembrance ceremony for those who made the ultimate sacrifice at the site of the new Aviation Memorial where all Lancer monuments have been co-located.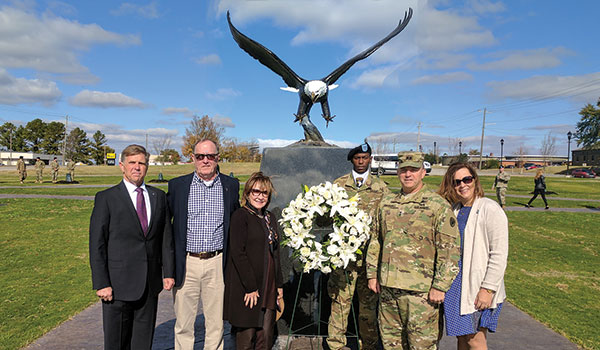 (l to r) CW5 (Ret.) Robert L. Huffman, BG (Ret.) William H. Forrester, Jr., Nancy Forrester, Aviation Branch Chief, MG William K. Gayler and Michelle Gayler
at the newly dedicated Screaming Eagles Aviation Memorial at Ft. Campbell, KY Nov. 9, 2016. / SCREAMING EAGLES AVIATION ASSOCIATION PHOTO
Tuesday, the Hallway of Heroes was officially unveiled inside the 101st Combat Aviation Brigade headquarters. As you enter the building, there are now unit distinctive memorabilia lining the corridors to the Hallway of Heroes where each of the 383 fallen Aviation Soldiers from unit inception in 1961 to date is honored with a plaque.
On Wed., Nov. 9, the new memorial was dedicated on Kentucky Ave. and 20th Street and Aviation Soldiers from the Vietnam era, Cold War, Desert Shield/Storm, Somalia and the Global War on Terrorism spoke. The day completed with a formal Aviation Ball at the James E. Bruce Convention Center, Hopkinsville, KY. All was made possible by the dedicated efforts of current and past members of the 101st Screaming Eagle Aviation community over the past five years.