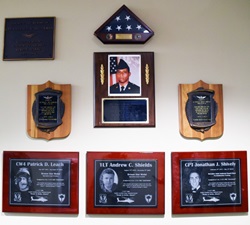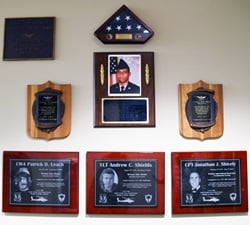 Story by Capt. Jessica Donnelly
Eastover, SC
59th Aviation Troop Command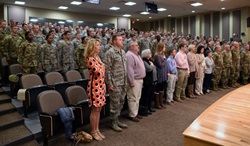 Three South Carolina National Guard fallen Soldiers were honored with a plaque dedication ceremony at the Multi Unit Readiness Center on McEntire Joint National Guard Base in Eastover, South Carolina, March 5, 2017.
The 1-151st Attack Reconnaissance Battalion, 59th Aviation Troop Command, South Carolina National Guard recognized Chief Warrant Officer 4 Patrick Leach, 1st Lt. Andrew Shields, and Capt. Jonathan Shively for their dedicated service and for paying the ultimate sacrifice either while deployed or during pre-mobilization training.
"These men served alongside many of you here today," said U.S. Army Lt. Col. John McElveen, 1-151st ARB commander. "Today we've been brought together once again to remember and honor three of our own American Soldiers…three men who paid the ultimate sacrifice serving this great nation…some of you were lucky enough to call them your friend."
McElveen added, these Soldiers fought for our freedom, our families' freedom, and the freedom of every person in this country and they will always be a part of the 1-151st ARB.
U.S. Army Maj. Gen. Robert E. Livingston, Jr., The Adjutant General of South Carolina, spoke to the Soldiers in attendance telling them to remember why they serve and remember those who went before them and the sacrifices that were made.
"The strength of our military comes from our people," said Livingston. "Three great Soldiers right here. Three Soldiers who dedicated themselves and their families to what they thought was the right thing."
Livingston also encouraged the Soldiers to learn about the lives and service of Leach, Shields, and Shively so they will be remembered.
Family members for each of the fallen Soldiers were also in attendance of the ceremony.
"The sacrifices you've made, we don't understand," said Livingston. "Thank you for sharing your loved ones with us. They will not be forgotten."
The plaques will hang on the Wall of Heroes in the 1-151st ARB headquarters.
"These were ordinary men who…paid the ultimate sacrifice," said McElveen. "We will always remember."