Two-place liaison, observation aircraft. Cessna Aircraft Company, Wichita, Kansas.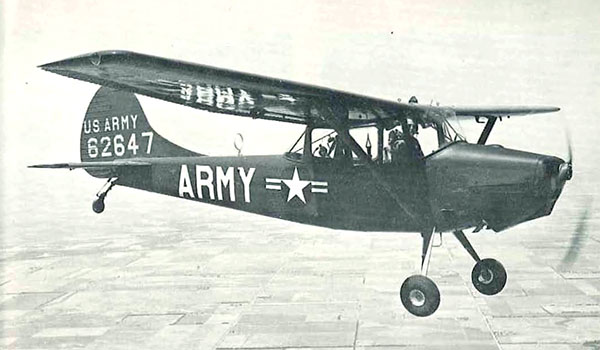 O-1 Bird Dog, originally the L-19
ENGINES
One Continental 0-470-11 piston eng ine rated at 213 hp,
PROPELLERS
McCauley fixed-pitch two-bladed metal propeller.
SPECIFICATIONS
Span: 36 ft. Length: 25 ft. 10 in. Height: 7 ft. 4 in. Empty weight: 1,614 lb. Gross weight: 2,430 lb.
PERFORMANCE
Max. speed ISL) : 115 mph. Cruise speed ISL): 100 mph. Cruise speed, 10,000′: 106 mph. Service ceiling: 1,850 ft. Max. range: 592 st. mi. Endurance:
4.67 hours. Rate of climb: 1,040 fpm.
REMARKS
The TO-1 D is the instrument trainer version of this aircraft and is st ructually
strong er. It has a variable-pitch propeller and an instrument panel in the rear, which may be enclosed for hooded f light. The 0-1 E encorporates the redesigned structural changes of the TO-l0. The 0 -IF is a modified TO-1D with its rear instrument panel, VOR, and UHF radios removed, and bomb shackles and a VHF radio installed.