75 Years of Army Aviation
Branch Command Sergeant Major / By CSM Gregory M. Chambers: You could say Army Aviation reaches as far back as the Civil War, when both Confederate and Union forces used balloons to direct artillery fire. But in 1942, when the Secretary of War ordered the Army to establish organic air observation elements for its Artillery units, the formation of these small Aviation elements represented the official birth of Army Aviation.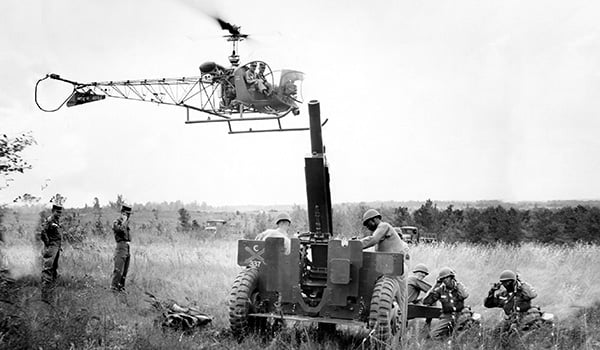 The OH-13, Sioux, performed MEDEVAC and scout missions during the Korean War and subsequently was used as an instrument trainer at the Army Aviation School./ Photos: U.S. ARMY FILE PHOTOS
Seventy-five years later, Army Aviation has grown to be an indispensable maneuver force for today's modern Army. It takes great visionary leaders, coupled with great equipment and, more importantly, dedicated and professional Aviation Soldiers to build a strong capability that is absolutely critical to mission success for our ground force partners. Today, we owe a debt of gratitude and thanks to all the Aviation Warriors and leaders who made this branch so successful.
Lineage
If you haven't studied your current Aviation unit lineage, I would highly encourage you take the time to learn a little bit about your unit. In the era of the Aviation Restructure Initiative where we "roll" unit colors up, re-designate units and stand up new units, the history behind your unit might surprise you. During the Vietnam War hundreds of Aviation units were established and most Aviation units today can trace their origins back to the Vietnam War.
As you may know, we were once part of the Transportation Branch, but on 12 April 1983 we officially became our own branch and significant actions quickly followed, starting with the establishment of the Aviation Officer Basic and Advance courses at Fort Rucker, Alabama in 1984. All Air Traffic services and training came to the branch in 1986 and the branch stood up its first Non-Commissioned Officer Academy at Fort Rucker in 1987. Additionally, in 1988 the United States Army Aviation Logistics School (USAALS) formally aligned under the branch and today the 128th Aviation Brigade has the task of training all our Aviation maintenance MOS's. Under the 128th, the 1-210th and the 2-210th Aviation Battalions have the responsibility to train our young aviation maintenance Soldiers. If you trace their lineage, you can see that both of these units performed exceptionally during the Vietnam War.
AH-64E Guardian
Advancing Capabilities
If you look at our advancements in rotary wing capability over the last 75 years it's absolutely incredible. In the 1940s and through the Korean War we used helicopters such as the H-13 Sioux to evacuate the wounded off the battlefield. Today we use the highly sophisticated and sole purpose HH-60 Black Hawk MEDEVAC helicopter to evacuate Soldiers off the battlefield. During WWII, the L-5 Sentinel was used to adjust artillery fire, gather intelligence and perform other functions. Today, the Aviation Branch has the highly advanced AH-64E Apache helicopter that can perform as a reconnaissance platform but can also act on intelligence gathered from that reconnaissance as an armed attack platform. As future technologies mature, the branch is increasing its focus on what our Future Vertical Lift platforms will look like and the capabilities we will need to succeed on the future battlefield. When we look at how far we progressed as an Army from the Civil War to the Vietnam War and compare that to Army Aviation's birth in 1942, it drives us to the question: what will we look like in the year 2042?
Going Forward
One of the best ways to preserve what our founding and subsequent Aviation leaders did for the Branch is to sustain and build on their accomplishments. The main parade field on Fort Rucker is named after General Hamilton Howze. General Howze is significant because he was the president of the 1960 Army Aircraft Requirements Review Board and the direct results and recommendations of that board to the President of the United States established several significant Army Aviation capabilities – air mobility (air assault), dedicated air ambulances (MEDEVAC), dedicated attack aviation assets and Aviation structured units within the Army. As a result of this board the 1st Calvary Division (Airmobile) was created and sent to Vietnam. Today, our combat aviation brigades can trace the lessons learned from that division and how to fight as an Aviation force. Its great leaders like General Howze that we need to keep in mind as we protect the legacy, prepare today's Aviation Soldier and prepare for the future fight.
In closing, I would like to reiterate that our Branch has a significant history. Although relatively young in comparison to some of our Army's other branches, it is a history rich in heroism, dedication, professionalism, and innovation. More importantly, for 75 years we have been a professional force that is ready to prosecute the ground force commander's objective.
Happy birthday Army Aviation! Let's have another successful 75 years!
Above the Best! This We'll Defend!
CSM Chambers
This email address is being protected from spambots. You need JavaScript enabled to view it.
CSM Gregory M. Chambers is the command sergeant major of the Aviation Branch and the U.S. Army Aviation Center of Excellence, Fort Rucker, AL.