Force Workhorse - Mastering Aircraft Recovery
By LTC Andrew D. Gignilliat and CPT Nicholas Kanakis
On January 2, 2013, the 603rd Aviation Support Battalion "Workhorse" assumed the Downed Aircraft Recovery Team (DART) mission across all of Regional Command (RC) South in Afghanistan.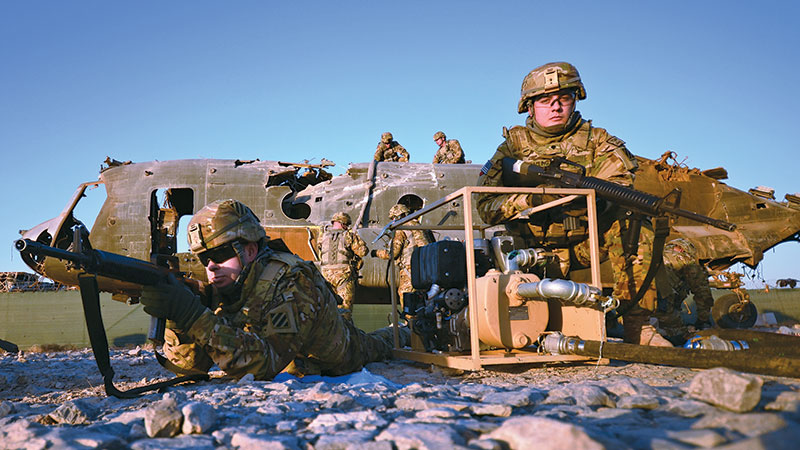 Prior to deployment, the battalion set out to establish 3rd Combat Aviation Brigade's (CAB) premier recovery team and did so by deliberately implementing a plan which staffed, equipped, trained, and eventually facilitated real-world aircraft recoveries.
Since that time, the 603rd DART successfully executed six aircraft recoveries to include the simultaneous sling-load recovery of a Black Hawk and Kiowa Warrior separated by over 115 miles of rugged Afghan terrain.
In addition to providing support to 3rd CAB, the Task Force (TF) Workhorse team demonstrated its joint capabilities by pairing with contractor, USAF and 160th Special Operations Aviation Regiment (Airborne) (SOAR(A)) teams to support recovery of unmanned aircraft systems (UAS), fixed wing, Mi-8, OH- 58, and UH-60L aircraft.
TF Workhorse DART consists of 44 Soldiers capable of executing aircraft recoveries under day, night, night-vision goggle (NVG) and inclement weather conditions.
Manning
The Workhorse DART training program began in earnest in August of 2011 through various individual and company level training exercises. Skill sets were initially tested during a field training exercise (FTX) in February 2012, where battalion leadership identified numerous short-falls in team training, staff reaction, and resourcing.
The first step was the reevaluation of team leadership. In March of 2012, CW5 Scott Reagan, an Apache Maintenance Test Pilot and the CAB's Maintenance Examiner, assumed his duties as DART 06.
CW5 Reagan, along with his NCOIC, SSG Marc Scialdo, understood that although many variables contribute to the success or failure of any team, the greatest remains the talent and coach-ability of its members. With that in mind, he reassessed the team's composition based upon required skill-set, individual MOS / technical proficiency, Soldier trainability and physical fitness.
Rather than select only a few individuals, CW5 Reagan developed a team which incorporated over 40 Soldiers with varied expertise including aircraft mechanics, component repair experts, avionics repairmen, aircraft defuelers, medics and communication specialists. With such a large compliment of Soldiers, the Workhorse DART built teams for each of the Army's airframes capable of ensuring 24/7 redundancy. This included the selection of an alternate OIC and NCOIC, four individual team leaders and the continuous cross training among all team members.
Training
After reorganization, CW5 Reagan and SSG Scialdo developed a methodical training plan which focused on individual skill-sets, team operations, and battle drill execution.
Soldier training included Combat Life Saver (CLS); NVG driver's training; Battle Damage Aircraft Repair (BDAR); Unit Maintenance Aerial Recovery Kit (UMARK); extensive basic rifle marksmanship and qualification on M-4, M-16, M-249, and M-240B weapons systems; recovery equipment familiarity (Spider crane, chop-saw, Jaws of Life, etc.); small unit leader tactics; land navigation; and communication training on multiple radio systems.
Training continued at the collective level during the DART Situational Training Exercises (STX) at the Joint Readiness Training Center in May 2012 and a company DART training exercise in June 2012. Soldiers demonstrated mastery of individual tasks and trained as small teams to establish duties during recovery operations.
Simultaneously, the Workhorse staff collaborated with CW5 Reagan to develop a streamlined battle drill capable of providing necessary information to the team in the event of a DART scenario.
The DART tested the product of these brain-storming sessions during the CAB FTX, "Falcon Focus," with elements from 1-3rd Attack Helicopter Battalion and 2-3rd General Support Aviation Battalion.
During "Falcon Focus," two of the battalion's four teams trained to the highest levels of proficiency completing full rigs on both UH-60 Black Hawk and AH-64 Apache helicopters in less than 15 minutes through repetitive team battle drills.
Over time, small refinements to products, briefs, information flow and staff action sequencing helped polish a concise DART battle drill adopted into the 3rd CAB standard operating procedures (SOP).
Ultimately, the TF Workhorse team assumed ownership of the DART mission throughout all of RC-S based upon demonstrated proficiency at team, staff, and command levels.
Execution
The countless variables, complexity and emotional urgency associated with a downed aircraft recovery require a deliberate and sequential approach to successfully execute such a complex mission.
This was most apparent during the team's first recovery on March 11, 2013 when a UH-60L, "Black Hat 14," crashed just outside of Kandahar Airfield with SSG Scialdo, the DART NCOIC, aboard as a crewmember.
As key battle staff and team leadership moved to 3rd Squadron, 17th Cavalry Regiment's Task Force Tactical Operation Center (TOC) to receive a mission update, the remaining team members finalized pre-combat checks and inspections of their gear.
SSG Ronald Latour, the team's alternate NCOIC and technical inspector, deployed to the DART objective with the ground security force as one of the first Soldiers on the scene.
While there, he provided critical aircraft damage assessments to the TOC and selflessly assisted with the recovery of our CAB's Heroes and their sensitive items.
Despite the emotional loss of their NCOIC, SSG Scialdo's DART accomplished their duties in a manner that would exemplify his professionalism and honor his memory.
Although the team conducted five additional aircraft recoveries since this event, the loss of the "Black Hat 14" crew and SSG Scialdo will remain TF Workhorse's most somber and humbling experience.
The truest test of any organization is its ability to perform at peak output and successfully accomplish the mission regardless of the circumstances.
On July 11, 2013, the DART did just that by concurrently recovering both a downed OH-58D Kiowa Warrior and UH-60L Black Hawk within a 17-hour timeframe.
Just two hours after launching the first team to the mountainous terrain of Uruzgan, Afghanistan to recover the UH-60L, the Workhorse TOC received a call for assistance with the recovery of an OH-58D in the Horn of Panjwai approximately 115 miles southwest inside a hostile, urban desert environment.
Thanks to extensive cross training of personnel, prepositioning of equipment and in-depth battle drills, a second DART capability organized under the leadership of CPT David Daniels and was subsequently supported by aircraft from the 160th SOAR(A), ground force security from 3-17th Cav., and elements of a special operations task force.
Despite the persistence of "red illumination" conditions, CPT Daniels' team successfully removed all major components and rigged the heavily damaged OH-58D for a safe and expedient sling load recovery, denying the enemy any potential propaganda opportunities.
Less than 2 hours later, the first team led by CW2 Christopher Stevens successfully recovered the UH-60L from an isolated 9,045 foot mountain ridgeline with the help of the "Vertical T" Mi-26 heavy lift helicopter.
Conclusion
Despite hard won lessons and bitter losses, the TF Workhorse DART is exceptionally proud of the accomplishments born from the mentorship of strong leaders, deliberate training and technical excellence.
While they are proud of their accomplishments, their legacy will be one of teamwork, camaraderie and professional dedication to their fellow Soldiers; a legacy repeated throughout the course of our Nation's history.
---
LTC Andrew D. Gignilliat is the Commander of the 603rd Aviation Support Battalion and CPT Nicholas Kanakis is the battalion Assistant Operations Officer. Both are assigned to Hunter Army Airfield, GA