From AAAA President's Cockpit: November 2013
Our National Executive Board team has really jelled in the last few months. Committee Chairs have worked on charters for each committee, new members have joined our committees, and several initiatives are underway ranging from a thorough review and analysis of our by-laws to detailed documentation of our Hall of Fame procedures and process in order to achieve total transparency.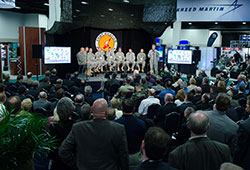 Outreach continues to be a top priority. With 69 chapters around the globe it's important to provide the same timely support to each and every chapter regardless of size or location.
Our VP of Membership, CW5 (Ret.) Dave Cooper and VP for Chapter Affairs, LTC (Ret.) Jan Drabczuk have personally reached out to contact our chapters to see how we can better support them.
The National Executive Group is contacting their new counterparts whenever there is a change of chapter leadership. These lines of communication are invaluable as it allows us to share important information on topics like financial support available from the National Office, free Soldier/NCO of the Month membership programs, scholarship facts, and our wide ranging awards program, to name just a few.
Our National Office stands ready to provide responsive and reliable support whenever contacted. Give us a call - we will get back to you quickly
I also want to bring you up to speed on the AAAA Annual Meeting, 4-6 May 2014, in Nashville, TN. We just held our first IPR on site and have developed some new directions for the event. We are decoupling the professional piece from the AAAA social events and annual membership meeting. Now we will have a professional agenda and an association membership meeting agenda.
The professional program will be the "Army Aviation Mission Solutions Summit," sponsored by the AAAA. We are trimming it from the traditional 3.5 days to 2.5 days and provide three levels of information exchange.
Top level briefings will occur for two hours a day in the large general session room. Mid level Q&A sessions will occur like last year in the very successful large center Army Aviation Community display in the Technology Learning Center, (TLC).
Deep Dive discussions led by subject matter facilitators will take place on general mission areas like maneuver, engagement, intelligence, and sustainment, in rooms we are building in the adjacent exhibit hall to the TLC.
The AAAA membership meeting agenda will also see some changes. The closing banquet on Tuesday night will NO LONGER be formal attire.
We will have a brief annual membership meeting report, followed by dinner and then go right into our A-List entertainment.
The Hall of Fame Induction Dinner WILL BE formal as this is our most significant recognition event of the program and will accord the appropriate honor due our new inductees and reflect the prestige of the Army Aviation Hall of Fame.
All this will be reflected in our digital registration process which opens on Monday, January 13, 2014. You will also see more information in the December 31st issue of the magazine and via email shortly before we open registration.
A final comment pertaining to awards – Our January 1, 2014 deadline to submit nominations for AAAA National awards (i.e., Unit, NCO, Crew Chief, Aviator of the Year, etc.) is fast approaching. We have many highly deserving units and personnel worthy of nomination. Please take the time to make that submission so they have the opportunity to compete.
Join me in establishing the goal of at least one award submission from every Chapter and let's ensure we continue to recognize excellence within our Branch.
Above the Best!
BG Howard W. Yellen, Ret.
31st President, AAAA
This email address is being protected from spambots. You need JavaScript enabled to view it.