From The Aviation Branch Chief
We are, without a doubt, entering a period of austerity that will impact the Army Aviation force. This is not new. Throughout our history, our political leadership has, rightfully, challenged us to defend strategies, programs and budgets following every period of significant conflict or military commitment.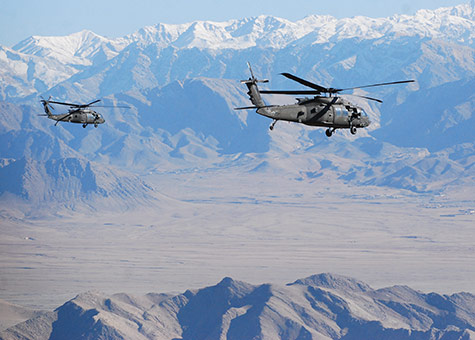 A pair of 10th Combat Aviation Brigade UH-60M Black Hawk helicopters from 1st Battalion (Attack), Task Force Tigershark, is pictured out the crew chief's window during a personnel movement mission Nov. 11, over Logar province, Afghanistan.
Our historical track record in making tough decisions early enough to preserve competent, capable forces is not comforting. Since WWII and from Task Force Smith to Task Force Hawk, tempting choices to prioritize one aspect of manning, equipping or training over the other and failure to adapt have temporarily humbled us. As Peter Drucker aptly stated, "The greatest danger in times of turbulence is not the turbulence; it is to act with yesterday's logic." We cannot allow this to happen again. We must seize the opportunity to sustain the best force that we can afford to ensure that expectations do not exceed capabilities in future first battles.
Unchanged, the future is an uncertain world with complex, hybrid threats. Despite detailed analysis and planning, we have never accurately predicted the location or character of the next war.
We do have the benefit of knowing we will operate in a budget constrained environment for the foreseeable future. In light of these realities, we must adapt to maintain balance between manning, equipping and training to sustain readiness and continue to improve our capabilities in the fight.
The time is now for bold ideas that will preserve our future force. Many of you have heard rumors about these initiatives. While no decisions have yet been made, each recommendation supports our focus on the ground fight with capable, sustainable, agile, adaptable and modular formations.
To support that vision, four lines of effort guide our Aviation Campaign Strategy:
Provide a modernized, ready, tailored aviation force
Develop and train aviation leaders to meet the challenges of the 21st Century
Adapt aviation design to provide more effective support, and
Enhance efficient sustainment of the aviation fleet
First, we must provide a force that is modernized, well trained, expeditionary and tailorable.
Near term cost savings are necessary to overcome existing risks and improve our ability to retain an agile, lean force that is affordable to train and ready to fight. This will involve divesting legacy systems while retaining and only investing in modernized systems. This includes a review of rapidly fielded non-integrated equipment that reduces efficiency and increases costs.
Streamlining these systems sooner rather than later, will provide some of the fiscal space necessary to pursue initiatives to make our aviation support battalions more modular, achieve common, interoperable systems and sustain our individual and collective training readiness. Acting now will also allow us to properly re-distribute sets, kits and outfits returning from overseas contingency operations.
Second, we must continue to develop and train aviation leaders to meet the challenges of the 21st Century.
Based on known uncertainty in complex environments, we must continue, in both the operational and institutional force, to grow competent, confident and agile leaders.
We must refine our tactics, techniques and procedures, developed and mastered in the crucible of combat, to the current operating environment. These efforts will also reflect advances in technology and capability to ensure leaders can effectively employ them.
Although still in the fight, we have already expanded our training focus beyond counterinsurgency and light intensity conflict. Our combat training centers now utilize the Decisive Action Training Environment (DATE) to prepare formations for unified land operations across the spectrum.
Recognizing that combined arms operations and wide area security are not mutually exclusive and sequenced – more often they are complementary and simultaneous, we will no longer train in the silos of high intensity conflict, counterinsurgency operations (COIN), etc.
Our junior leaders are adept at rapidly responding to tactical threats while conducting wide area security in very mature theaters. Introducing them to the battlefield geometry (deep, close and rear), deliberate planning and highly synchronized execution of combined arms operations without sterilizing the environment of its asymmetry and human terrain is already proving challenging for them and will further their agility in future fights.
Two leader development initiatives in the institutional force are the modernization of flight school and greater collaboration between the Aviation, Maneuver and Fires Centers of Excellence for professional military education. We are studying a redesign of flight school around a modern, twin engine, glass cockpit aircraft.
There are benefits from lower maintenance costs associated with newer aircraft and achieving proficiency early in aircraft similar to those in the operational fleet. But, there are also challenges in transitioning our instructors and maintainers while maintaining the high standard established in producing professional aviation officers. Lower student loads due to sequestration impacts on the flying hour budget at Fort Rucker may provide a unique opportunity to transition our training base while still meeting throughput.
Third, we must adopt a cross-component aviation design that best addresses requirements at home and abroad.
This begins with standardization of our aviation formations. Six aviation brigade designs between the active and reserve components make every aspect of equipping, training, interoperability and deployment more difficult.
We are studying the reallocation of assets to reduce active combat aviation brigades (CAB) to one design and reduce the number of reserve brigade structures to better optimize both to meet Title 10 and Title 32 requirements.
We also seek to use this opportunity to incorporate lessons learned from the fielding and deployment of 101st CAB as a Full Spectrum CAB where manned-unmanned teaming or MUM-T was a force multiplier. Standardized aviation formations with organic UAS capability will optimize MUM-T as an integrated system rather than a stove-piped individual capability.
Fourth, we must enhance efficient sustainment of the aviation fleet.
Although much more is required, simply divesting legacy systems and standardizing CAB structure will simplify supply chains, reduce required sets, kits and outfits and reduce required maintenance MOSs to improve efficiency.
We must also change our culture from readiness at any cost to readiness at best cost. Ongoing initiatives to better define operational readiness rates, evaluate maintenance efficiency across formations and improve conditions based maintenance, safety and survivability will continue.
This is not a time to panic. It is time to keep calm, roll up our sleeves and carry on, to capture the power of the Aviation Enterprise and the potential of bold new ideas to keep Aviation relevant and capable. We are assuming some risk. We will not assume that risk with the lives of our Soldiers or those that we support on the ground.
Especially during this holiday season, I thank all of you who continue to support those in the field and make us the very best and uniquely capable force in the world. And, thanks to all of you in the field and your Families as you continue to make sacrifices, on a daily basis, in the defense of our Nation.
Above the Best!
---
MG Kevin W. Mangum is the Army Aviation branch chief and commander
of the U.S. Army Aviation Center of Excellence and Fort Rucker, AL.