Army Aviation in Afghanistan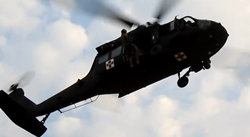 Check out this video showing soldiers from Task Force Pirate and Task Force Ready supporting International Security Assistance Force (ISAF) in its mission across RC North, Afghanistan. Missions were often completed with partners such as the Germans, Latvians, Norwegians, and Swedish. Some of the footage is from TF Pirate's deployment to Bagram in support of OEF V.
The original published video can be found here.