Oldest Flying Chinook Facing Retirement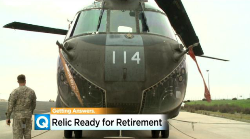 The oldest flying Chinook helicopter in the world, which is in Stockton, is set for retirement. It is a Chinook CH-47D and it has logged over 10,000 flying hours, including missions in Vietnam, Korea, Iraq and Afghanistan. The Chinook will be replaced by a fleet of factory-new Chinook 47Fs. These new helicopters will allow the California National Guard to continue on their life-saving missions. 
This article was originally published here.