Order of Saint Michael Award Ceremony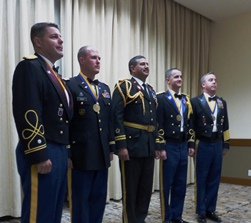 MAJ John Oros and MAJ Dave Turner and were inducted into the Bronze Honorable Order of St. Michael prior to the US Embassy Tegucigalpa's Marine Corps Ball.  MAJ Oros and MAJ Turner are both C-12 Pilots assigned to the Defense Intelligence Agency (DIA) who perform missions throughout Mexico, Central America, and the Caribbean.  The official party for this international event included (from left to right) LTC Shane Mendenhall, Chapter President and 1-228th BN Commander; MAJ John Oros (Inductee), MG Fredy Diaz Zelaya, Honduran Chairman of the Joint Chiefs of Staff; MAJ Dave Turner (Inductee);  and CSM Jim Etheridge, 1-228th BN Command Sergeant Major.  Other notable guests in addition to the inductees family in attendance were the Honduran Vice Chairman of the Joint Chiefs of Staff, the Honduran Inspector General,  the Commander of the Honduran Navy, the Senior Defense Official/Defense Attaché, Col Lawrence Pravecek, and the Soto Cano Base Commander.
Article submitted by LTC Shane Mendenhall.