New York National Guard Responds to Snowstorm Juno
394 Soldiers from the New York National Guard were on duty while New York City, Long Island, and the lower Hudson Valley were being hit by Storm Juno. The National Guard troops were called upon by New York Gov. Andrew M. Cuomo, as part of New York's response to the blizzard. New York certainly prepared for the worst, and the preparedness paid off.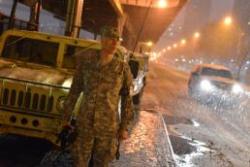 Soldiers with Joint Task Force Empire Shield work with members of the FDNY EMT during Storm Juno, on Jan. 26, 2015.To read the complete article, click here.