Personnel Evacuation Mission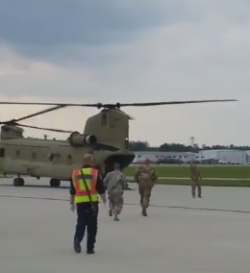 August 30, 2017

Check out this video of a collaborated effort between 1-158th Aviation and 7-158th Aviation, the two units were able to perform what is currently the largest personnel evacuation mission. Over 200 elderly people who had been stranded, were evacuated from Port Arthur and brought to the Conroe Executive Airport (CXO) where 2 buses and 25 ambulances were waiting to take them to an appropriate shelter. The mission was accomplished by utilizing 7 - UH-60 Blackhawk's, 4 - HH-60's (MEDEVAC), and 2 - CH-47 Chinooks, and many ground personnel. Thank you to all of the civilian organizations, first responders, and ambulatory teams as well as our Service Members who participated. - "GHOST RIDERS!!"
This video was originally found here, on the Facebook page for the 1st Battalion, 158th Aviation Regiment, "Ghost Riders."